Bolt Ready To Prove 2012 Naysayers Wrong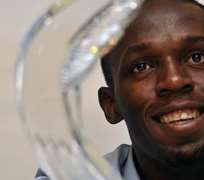 Triple Olympic champion Usain Bolt was quick to remind those who think young Jamaican training partner Yohan Blake will be the favourite for next year's London Games 100 metres that he was still the man to beat.
"A lot of people have said guys are going to beat me but I am still number one. I am still the Olympic champion," the world's fastest man told Reuters in a telephone interview from Kingston on Saturday.
"It doesn't really matter what people say. I go out there and prove them wrong everyday," Bolt said from the set of a new Gatorade campaign that is launching early next year.
"That's just one more challenge, and I enjoy challenges."
Former 100 metres record holder Maurice Greene stirred the pot last week by backing Blake to win the London Games' most anticipated race.
"If everybody competes like they did this year, I'd say Yohan Blake is going to win," the American told BBC Radio.
Greene made the same prediction ahead of August's world championships in Daegu, where Blake won the 100 metres after Bolt was disqualified for a false start.
Things will be different in 2012, said Bolt.
"I am coming back from injury and working my way back up," said the world 200 metres champion who went undefeated in 2011 but never mustered the times he delivered in previous years.
Blake, meanwhile, raised eyebrows with his world title and a late-season 200 metres run of 19.26 seconds that was seven hundredths of a second outside Bolt's world record.
The 21-year-old's emergence has helped both sprinters, Bolt said.
"We train together and push each other to get better," said Bolt, who is four years older than Blake.
"Yohan is a very competitive person and he competes in training all the time," Bolt said. "But I am not really that much of a competing person in training.
"Some times we go at it (in training), but it is all fun and games."
The seriousness will come when they race, and if Bolt has his way, his 100 and 200 metres records of 9.58 and 19.19 seconds will tumble next year, hopefully at the Olympics.
"It would be very important, even wonderful if I could get my records at the Games," Bolt said.
"I really want to do that because that allows me to wow the crowd....but you never know what the weather is going to be."
Only if he breaks the records and defends his titles will he consider himself the best.
"A lot of people have done great things. For me to go back to the Olympics and get records and win again, that would make me in my books a legend," Bolt said.
"A lot of people already say I am, but I set high standards."
He may even go for gold in the 4x400 metres relay, something first mentioned several months ago.
"I have looked at the schedule now and the 4x4 comes (a day) before the 4x1 so I don't think I would really want to chance it," Bolt said.
But he quickly added, "if I am fit enough, and Jamaica has a good team, I probably will try."
An individual 400 is unlikely until after the London Games, if then, except in training runs, Bolt said.
But long jumping may find a way onto his programme before he retires in 2016 or 2017.
"I definitely want to try it. I think I would be good."
REUTERS