CAF U-23 CHAMPIONSHIP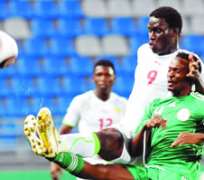 Former Green Eagles' captain, Henry Nwosu (MON), has taken Dream Team V players to the cleaners, describing them as a bunch of disappointment.
Nwosu, who assisted Coach Samson Siasia to tinker the Dream Team IV to a silver medal at the last Olympics in Beijing, China, said that the Austin Eguavoen-tutored side lacked the determination to succeed.
'I put so much hope on Dream Team V believing that the boys would redeem Nigeria's image by qualifying for the Olympics in London next year, but I have never been so disappointed in my life until I watched the team playing at the ongoing championship in Morocco,' Nwosu complained.
'The boys simply refused to play football. In fact, they were not ready for the competition. I'm really surprised at the way they played their matches,' he went on.
Although the member of the 1980 Green Eagles' squad that won the Africa Cup of Nations would not completely absolve Coach Eguavoen from blame for the team's disastrous outing in Morocco, he heaped the bulk of the blame on the doorstep of the players.
'I'm sure that Eguavoen would have told the players what to do. Sometimes players come up with a game plan on the pitch when the original game plan fails to work. I agree that Eguavoen should take part of the blame, but the players should take the bulk of it because they are the principal actors,' he insisted.
'I think some of the players never believed that they would make the final list of the squad to Morocco, hence they were not prepared for the tournament. But it's wrong and professionally naive for a player in camp to assume that he has no chance to make the first team.
'In our time, when I was invited to the national team, by the time I arrived in camp and saw top players like Muda Lawal, Alloysius Atuegbu, David Aigbovo and other notable midfielders, I thought I had no chance. But on a second thought, I picked up courage and told myself that those other players did not have more than two legs or one head. So, I decided to fight for my jersey and eventually made it irrespective of the presence of the big names in camp with me.
'The truth is that the players in the Dream Team V have failed Nigerians and it is very unfortunate. I don't know what to attribute their dismal performance to because they had enough time to prepare for the tournament in Morocco and the team got all the support it needed from the Nigeria Football Federation.
'As far as I'm concerned, the players simply refused to play good football; they chose to break the hearts of Nigerians. It's very unfortunate,' Nwosu lamented.