Olympus Ex-CEO Campaigns To Oust Board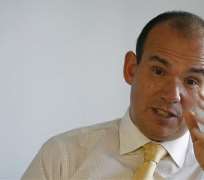 The former chief executive of disgraced Olympus Corp, Michael Woodford, launched a campaign on Thursday to oust the board of directors, reclaim his old job and bring in his own team to save the Japanese firm from a big accounting scandal.
Woodford, who blew the whistle on accounting tricks at Olympus after he was sacked in October, said he was putting together a team of candidates for a new board and talking to shareholders about replacing the current leadership, hopefully by February.
But the Englishman, who was a rare foreign CEO in Japan, denied he was considering an option to lead an overseas buyout of the 92-year-old maker of cameras and medical equipment.
"I'm not trying to get involved to sell Olympus to an American healthcare group or an overseas healthcare group. I don't want to be a part of that," he said in response to reporters' questions. He conceded he had been approached by several parties, but declined to speak to them.
"I wouldn't be part of that. I don't see that being feasible or attractive ... I just want Olympus to have a board which is trusted and respected and get on with running the company. I am quite Japanese in that sense," he said.
"This won't be aggressive or hostile in any way," he added.
Woodford, speaking in New York where this week he met Federal Bureau of Investigations officials probing the Olympus scandal, said he had finally resigned from the Olympus board on Thursday in order to openly campaign for its removal.
He said he had spoken to some shareholders about options for a reconstituted board, and hoped Olympus would call a shareholders meeting to elect new directors by February, though he had yet to draw up his own team of directors.
"I think it would be very wise for the company to call a shareholder meeting quite quickly," said Jamie Allen, secretary general of the Hong Kong-based Asian Corporate Governance Association, whose members include institutional investors that collectively manage assets of more than $10 trillion.
"Clearly, there's a lot of tension between the management and the shareholders and I don't think it's healthy if this continues for another seven months until their AGM in June."
Woodford and the board, led by Olympus President Shuichi Takayama, face a battle to see who has more shareholder support, but the Englishman may face resistance from Japanese investors making up the bulk of the company's share register.
DOMESTIC SHAREHOLDERS, PRIVATE EQUITY
Some domestic shareholders believe he could have handled the affair less openly and aggressively.
"It's possible, but I don't think many Japanese investors would like Woodford to take over Olympus wholly," said Nanako Imazu, an analyst at CLSA in Tokyo.
A former Olympus director's Internet campaign to drum up support from among the firm's 40,000 staff for Woodford's return as CEO won only 300 backers, according to its website, olympusgrassroots.com. While most postings backed the campaign's aims, some disagreed that a Woodford comeback would help.
"What you are doing is a desecration of the devotion shown by President Shuichi Takayama and the efforts of employees, who are doing their best to end the confusion," wrote one anonymous worker. "I can't believe you want to bring back Michael Woodford, when you don't know what he is really like."
Olympus has lost more than half its market value since firing Woodford on October 14, an event that prompted him to go public with concerns he said he had been raising internally over a string of dubious acquisition payments dating back five years.
Woodford had remained a board director, however.
Olympus admitted last month to hiding investment losses from its investors for two decades and using some of $1.3 billion spent on questionable deals to aid in the cover-up.
The stock rose 2.3 percent on Thursday after Woodford's comments, though the company still faces heavy writedowns and possible delisting from the Tokyo stock market, a humiliation that could put it under pressure to sell core assets.
Private equity funds see Olympus as a good potential opportunity for new investment in Japan and would be interested in either buying Olympus whole or its non-medical businesses, say sources in the private equity industry.
Olympus's main business is diagnostic endoscopes, which are used to peer inside patients and detect cancer and other diseases. It enjoys a near-monopoly worldwide and is worth $2.6 billion in annual revenue.
"I always felt a buyout led by Woodford was a possible scenario," said Hideyuki Ishiguro, investment strategist at Okasan Securities.
ON A MISSION
Authorities in Japan, Britain and the United States are still trying to get to the bottom of the complex cover-up. An investigative panel of experts, set up by Olympus after the scandal broke, is due to report its findings within days.
Some of Olympus's main shareholders have cut their stakes, joining an initial rush of selling that left Wall Street bank, Goldman Sachs, a market-maker in the stock, with a near-7 percent holding currently worth more than $200 million.
Goldman has said the holding is not strategic -- which could further erode shareholder support for the existing Olympus board, which wants to preside over the initial clean-up.
Nippon Life Insurance Co, previously Olympus's biggest shareholder, has said it would continue to support Olympus, though it has cut its holding to 5.11 percent.
Big foreign investors want the board to leave, and Woodford to return to lead a clean-up of the company.
Southeastern Asset Management, the biggest foreign shareholder with about 5 percent, said Olympus needed a new board with a majority of independent directors.
"The incumbent board must promptly announce an EGM and allow shareholders the opportunity to propose candidates. Only with this new board can the reform process be credible and trusted by all stakeholders," it said in a brief statement on Thursday.
Woodford himself is clearly on a mission, and says he is digging deep into his own savings to fund his campaign to return to lead a company where he spent three decades.
He told Reuters in an interview in New York that his legal bills were the biggest drain on his resources.
"They (his law firms) are all being reasonable. They understand I'm not a corporation," he said.
"But nevertheless, if you don't have any income coming in, and you have school fees to pay ... it's a heavy burden."
REUTERS