Security Key To Economic Growth And Development, Says Atiku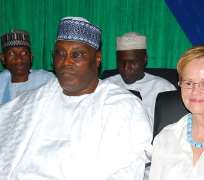 SAN FRANCISCO, November 21, (THEWILL) - Former Vice President Atiku Abubakar has said that the provision of adequate security to lives and property is a key factor that will spur economic growth and development of the country.
The former Vice President who spoke against the backdrop of rising wave of insecurity in the country said that it is counter-productive to treat security as though it is disconnected from economic and political development, when in fact, they are inter-related.
Speaking at the Founder's Day celebration of the American University of Nigeria (AUN), Yola over the weekend, Atiku Abubakar said that for the country to enthrone a new regime of security, it must move quickly to address the socio-economic challenges facing the nation.
He listed the challenges to include high levels of unemployment and illiteracy and poor and unaccountable governance.
"Put another way, it (insecurity) largely results from the inability of the government to fulfill the aspirations of our people, especially our young people," Atiku Abubakar said in the speech titled "Addressing the Socio-Economic Dimensions of Nigeria's Internal Security Challenges."
The former Vice President said that the focus on sophisticated security gadgets and equipment, intelligence gathering and personnel, among others is important, but "perhaps, more important is the need to get our economy humming so that the vast army of unemployed people in this country can have jobs not only to earn an income but to contribute to the development of the country."
Equally important, Atiku noted, is the need to fix the educational system and to ensure that the nation's young people are in school.
"What kind of society are we building when about 80% of school-age children in the North East and some parts of the North-West are not in school?" he queried.
He noted that the twin goals of economic development and nation-building have become even more urgent as Nigeria's economy continues to sputter and national cohesion becomes ever more frayed.
However, the former Vice President said that in order to accelerate our nation-building process we need to be engaged in rapid economic development to improve people's living standards and to help legitimize the state and leadership of the country; equitable development of the various regions that compose the country and democratic freedoms which allow people to discuss and agree on the kind of nation they would like to build.
In addition, he stressed on the need for mutual respect and tolerance of social difference based on religion, ethnicity, language and, above all, the protection of lives and property, among others.
But he said that good governance is the key to starting to address these critical socio-economic challenges.
"Good, efficient and cost-effective governance will prioritize government programmes, mobilize and focus our energies on what needs to be done urgently, enforce rules, value the people, show fairness and equity and assist and protect the most needy and vulnerable," Atiku Abubakar said.
He identified priorities that would enable Nigeria realize its full potential as massive investments in infrastructure development for their immediate employment impact; massive investments in and revitalization of education so we have highly skilled labour and better informed citizens and improvements in health care delivery so that we have a healthy workforce and citizenry.
Others are massive improvements in the security sector, including equipment, personnel, training, intelligence gathering and better coordination of the various relevant agencies and between them and their foreign counterparts and concerted efforts to address the cries of neglect and marginalization by different sections of the country in order to renew our federalism (including making investments that address the peculiar needs and resource endowments of specific regions).