Film producers to storm N. Assembly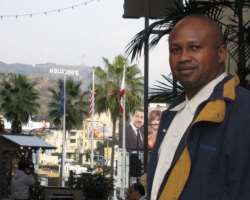 Tuesday, September 22, is a date to be kept by all of producers of motion picture in Nigeria. On that day, the National Assembly will bubble with mild activities as movie producers under the aegis of Association of Movie Producers(AMP) storm the place to register their grievances concerning the increasing menace of piracy in Nigeria.
Although, the modalities for the peaceful demonstration have not been ascertained, president of the association, Mr. Paul Obazele, who made this disclosure at the end of a two-day brainstorming session organised by AMP to evaluate the negative impact of piracy on the development of the motion picture industry, held penultimate week in Lagos, said September 22 is a date that must be kept by all the members of the association.
"We will storm the National Assembly on the 22nd of September to register our grievances concerning the way and manner in which the activities of pirates have left most of us much poorer than we were before now. I wouldn't disclose the modalities yet.
But certainly, we will be the guests of the law makers on the 22nd of September. Our movies are heavily pirated within and outside the shores of this country. While the owners of intellectual property go home with lean pockets, those people who pirate their works live fat on their sweat."
Obazele who defeated veteran film producer, Zeb Ejiro, to cliche the position for the second time during the association's controversial general election which held last month said part of his second-tenure agenda for the association is to ensure that the movie makers form a united front to fight against the menace of piracy.
He noted that his acceptance speech as president of AMP, acknowledged the need for all filmmakers to join hands with the new executives to rid society of menace of piracy.
However, the brainstorming session, which witnessed a large turn-out of film makers, including actors and other stakeholders in the motion picture industry,was used as a platform to galvanize support for the fight against piracy in the country.
While the conference, which opened on Sunday, August 30, and ended on Monday, August 31st lasted, stakeholders in attendance had cause to dialogue on certain aspects regarding the factors that contribute to the increasing rate of piracy, especially in the country's motion picture industry.
In the end, the stakeholders unanimously agreed that piracy is not only a common enemy that must be jointly fought to a stand still but a cankerworm that has eaten deep into the fabric of the nation. Mr Bashiru Kehinde, who represented the Commissioner of Police, Interpol, and representative of the Director General of the National Film and Video Censors Board, were among the people that spoke at the two confab.