Terry G readies video for hit single Free Madness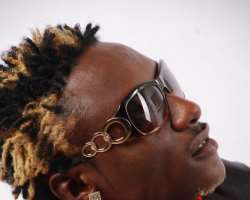 Hot in demand producer cum artiste, Gabriel Amanyi a.k.a Terry G is about now plotting a grand script for the music video of his hit single entitled Free Madness.
Speaking more about the yet to be shot video, Terry G revealed that the video will be shot in his the hood where he grew up and his fans should expect nothing but a mad concept.
''The video for the single Free Madness will be shot in the hood where I grew up and it will be directed by me while Igho will produce the video. It will be shot in two weeks time and the concept is nothing but a mad one,'' he added.
He also talked about how the inspiration for the song came about: ''It's a beat I did for my friend, his name is Black. I was making the beat for the song which we were supposed to do together. And as usual, before I begin every recording session in my studio, I usually test the microphone. I always test the microphone to get all the settings right, so that when you start voicing the voice of the artiste sounds right and clean. While they were outside, I was inside, trying to get the sound settings right and all of a sudden, I was in the mood and I decided to free-style on the beat I prepared for him. I took the song straight from the beginning; with no harmony and no back up. And it is surprising that the song is causing a lot of stir in the industry today,'' he enthused.
Also speaking about his rumored deal with Mo' Hits Records Terry G says: ''I am not signed on to Mo' Hits Records. They are my colleagues and I respect them a whole lot, especially Don Jazzy's productions. That is why you see me hanging around with them. They know their onions and the artistes on record label are the most packaged acts in the industry at the moment. But I am not signed on to the record label; I am doing my own thing called Terry G's Production (TGP) that I currently run.''
Finally, the artiste spoke about his forthcoming album; ''It's actually package from my first album. I am about to promote a new image and it is even more than what people expect. I have a variety of songs that will please ears and the album is a commercial album. There will be 12 tracks on the album and I am producing all the songs on the album. I am also working on my younger brother's album. His name is D' Money.''