Tevez Will Not Contest Fine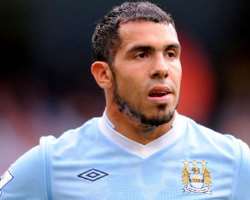 CARLOS TEVEZ: THE STRIKER HAS TWICE REQUESTED A TRANSFER IN THE PAST YEAR
**Wantaway Argentine decides against appealing suspension
The striker has been at the centre of a long-running dispute after a now infamous UEFA Champions League match against Bayern Munich on 27th September.
City boss Roberto Mancini first accused Tevez of refusing to play as a substitute at the Allianz Arena, but an internal investigation then deemed the Argentine had only refused to resume his warm-up.
After the inquiry and an associated hearing, which took place in October, a club disciplinary panel upheld a charge of misconduct on five separate breaches of contract.
City wanted to fine Tevez four weeks' wages, but the punishment was reduced to two weeks' after the PFA refused to ratify the preliminary decision.
A two-week suspension was served immediately after the defeat to Bayern and that is thought to be the basis of the 27-year-old's decision not to appeal.
Former City captain Tevez helped the club win last season's FA Cup and his 20 Premier League goals in 2010/11 also played an important role in securing a third-placed finish and qualification for the Champions League.
But the ex-Manchester United striker has twice requested a transfer in the past year and, despite his decision to accept his fine and suspension, it is unlikely he has any future at City beyond the January transfer window.
SKY SPORTS