SIASIA'S COURT ACTION AGAINST NFF NOT THE BEST - LADIPO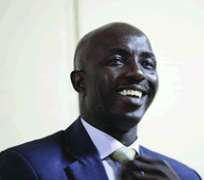 Former Super Eagles coach, Samson Siasia's decision to head to the law courts over unpaid allowances has been described as a wrong move on his part as the civil court is not the best place for him to have taken his case according to President General of the Nigeria Football Supporters Club, Dr. Rafiu Ladipo.
Ladipo, while reacting to Siasia's latest move after his sack by the Nigeria Football Federation, NFF said that the turn of event is not in the former international's favour as he there were other means of resolving whatever differences he had with his former employers.
'Siasia knows that football matters are not taken to civil courts given the rules of FIFA.
If he felt aggrieved, he should have reported the case to FIFA or go to the Court of Arbitration for Sports or better still seek audience with the leadership of the NFF to iron out issues. I say this because he could make a return to the Eagles in the near future just like has been the case with the likes of Christian Chukwu, Shaibu Amodu and Keshi that has just been appointed.'
In Ladipo's views, there are better ways of solving knotty issues like Siasia had raised but that his decision to go to court was ill advised. 'Nigerian football is one that brings you back when they feel there is a need. Siasia should not shut himself out completely. The question he should ask himself is why did an Amodu that qualified Nigeria twice for the World Cup not go to court after he was relieved of his duties. Siasia still has a future in coaching and Nigeria can recall him at anytime. No one can tell,' he stressed.
Siasia while giving his reasons explained his decision to seek court redress over his dismissal by the Nigeria Football federation as coach of Nigeria.
'I did everything that was expected. We played a good game, created so many chances. I'd say luck was against us. If you ask me, I can't really say this is what went wrong.' When confronted with the fact that at 2-1, Nigeria would have progressed since the results of the earlier games were already known, he took a swipe at the support structure.