PDP ENDORSES DEREGULATION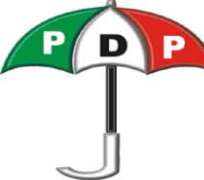 The Peoples Democratic Party (PDP) National Working Committee (NWC) yesterday endorsed the planned removal of fuel subsidy. The Acting National Chairman of the party, Alhaji Kawu Baraje who made the position known urged Nigerians to embrace the policy.
While admitting that President Jonathan did not make removal of fuel subsidy a campaign issue while canvassing for the votes of the Nigerian electorate, Baraje, nevertheless noted that it was in the overall interest of the country.
'The PDP fully supports the patriotic determination of the Federal Government to deregulate the downstream sector of the petroleum industry. We are also encouraged by Mr. President's decision to constitute a committee of reputable Nigerians to advice on the management of the income that will accrue from the removal of subsidy for the overall benefit of all Nigerians,'' he said.
According to the PDP scribe, 'Nigerians should accept it as a sacrifice to save the economy. As the custodians of the people's mandate and the resource base of the ideas that inform government policies, we of the PDP owe it a duty to Nigerians to break our silence on these rather critical issues of national significance and place ourselves squarely on the side of history. The truth of the matter is that Nigerians are well aware that the Federal Government is deeply committed to tackling decaying infrastructure, provision of jobs to our teeming youths, stimulation of investments in critical sectors and provision of security. Unfortunately, Nigeria depends on oil export earnings to run the economy.
'In effect, Nigerians are more concerned with the improvement of infrastructure. They want their roads safe and motorable; they want quality education for their children; they want to see affordable and efficient health care delivery systems; they want security of lives and property; they also want a guaranteed supply of petroleum products at affordable cost.
'These are achievable only if resources are harnessed to finance these major developmental programmes. In other words, all these programmes can only be accomplished when government channels hard earned resources towards the improvement of services in these sectors instead of fritting them away through leakages and misappropriation of funds.'