Okey Ndibe Speaks At Asaba Memorial Monument Parks Fund Raising On October 29th 2011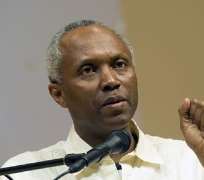 Nigerian novelist and columnist Okey Ndibe is the keynote speaker at the 3rd annual Asaba Memorial Monument Park conference and fundraising. The event, which is sponsored by the International Renaissance Group (IRG), will take place on Saturday, October 29 at West Tampa Convention Center, 3005 W. Columbus Drive, Tampa, FL 33607.
The Asaba Memorial Monument Park is a project embarked on by the International Renaissance Group (IRG), a 501c non profit organization in Tampa, Florida. This IRG-sponsored event will feature a morning session (panel discussion) and an evening gala session.
IRG works in collaboration with the University of South Florida (USF) to pursue research and documentation of oral and written history started more than three years ago researchers from the university first visited Asaba. Since then, researchers from the university's Anthropology and History Departments have visited Asaba, collecting oral and written accounts of what happened in Asaba from eyewitnesses and survivors of victims. The focus of the IRG is to raise funds towards the building of a permanent Memorial Monument Park.
The Asaba Memorial Monument Park will include library/archives with full interactive and informative materials about the Nigerian civil war. It will also house the names of all those who perished in the massacre in Asaba that took place between 1967 and 1970. At this event, there will be an unveiling of an architectural model of the proposed park.
For more information on the event, please call: 813-373-0147 or 941-875-2260.
This year's keynote speaker, Okey Ndibe is a professor of English, fiction and African literature at Trinity College in Hartford, Connecticut, and also teaches a seminar in African literature at Brown University, Providence, Rhode Island. His novel, Arrows of Rain, has drawn praise from numerous critics and authors, including Nobel laureate Wole Soyinka, John Edgar Wideman, and Michael Thelwell. U.K. based New Internationalist magazine described Arrows of Rain as "a powerful and gritty debut."
Ndibe, who has just finished a forthcoming novel titled foreign gods, incorporated, also co-edited (with Chenjerai Hove) Writers, Writing on Conflicts and Wars in Africa.
Ndibe, who earned an MFA and PhD in English from the University of Massachusetts at Amherst, has taught at Connecticut College in New London, CT, Simon's Rock College of Bard in Great Barrington, MA, and as a Fulbright Scholar at the University of Lagos, Nigeria. The Trinity Tripod, a student-run newspaper, listed him among 15 professors "students must take classes with before graduating." The Collegian, the student newspaper at Connecticut College, named Ndibe one of the college's five outstanding professors). At Simon's Rock College, he won the college's New Faculty Award.
He served as the founding editor of African Commentary, a now defunct magazine published in the U.S. by novelist Chinua Achebe. From 2000 to 2001, he served on the editorial board of Hartford Courant where his piece, "Eyes to the Ground: The Perils of the Black Student," won the 2001 Association of Opinion Page Editors award for best opinion essay in an American newspaper. He contributes to several publications in the U.S. , England, and elsewhere, including Financial Times, Hartford Courant, The Fabian Society Journal, BBC online,www.guernicamag.com and www.drunkenboat.com.
Ndibe has given lectures and readings around the world, including in Japan, the UK, all over the US, Kenya, Uganda, Ghana, and Nigeria. He is currently working on Going Dutch and other American Misadventures, a memoir of his life in the US.