SIASIA WAS PROGRAMMED TO FAIL -ONIGBINDE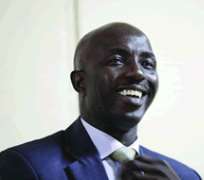 • Siasia
FIFA/CAF instructor, Adegboye Onigbinde, has revealed that the embattled Chief Coach of the Super Eagles, Samson Siasia, 'is a victim of societal problems', which made him to fail in his mission to qualify Nigeria for the 2012 Africa Nations Cup slated for Gabon and Equatorial Guinea.
'Samson Siasia is a victim of societal problems. He was given an assignment or rather appointed without any guide lines or terms of reference. Even as at that, they will say Nigerian coaches are not experienced and they are not knowledgeable, but the question is: What have you done as a football federation to improve on the technical abilities of the national team coaches? What have you done as a federation to improve the knowledge and experience of the (home based) coaches.
'Now that he (Siasia) has lost a match, you are calling for his sack. If another person comes, the same thing would surely happen. Then where is Siasia or any other coach that fell into this trap or problem going to acquire the needed experience if you continue to call for their sack for failing to qualify for a major tournament when we have not really developed the game in its totality.
When Siasia was appointed, I advised them to let us have some persons in the background to support him and work with him. I also suggested that the people must be experienced, knowledgeable and intelligent. But on the other hand, the general complain against Siasia is that he is arrogant. But you (NFF) that appointed him has your existing guidelines that he must follow as a coach. If he can't abide or cope with the guidelines, then he should go and leave the job since you are his employer.
That is all. So you don't blame him now.
'You are now saying you gave him a free hand and you did not interfere. That is the great offence you have committed on Siasia's issue.
So, the man was left as a lone ranger and he did the job to the limit of his knowledge. Is following your guideline as your employee an interference.
He, however, suggested way forward for Nigerian football.
'Well I just have to keep repeating myself and the major problems are what I have been talking about for half a century now. I remember the first paper I wrote on development of football in Nigeria was in 1966, about 45 years ago. All the problems I highlighted there are still there up till today.
'I keep saying that we are toying with football both in administration and technical aspects. We need to sit down and deliberate. Unfortunately a lot of extraneous influences have been introduced to football which includes politics, ethnicity and various sorts of sentiments. Where all these exist you can never have the best. I think that is the major problem we have.
'The whole world knows that Nigeria has the talents in football but the questions are what we are doing with the talents. When I talk about the development of football I am not talking about the development of players alone but even the administrators have to be updated in their knowledge. If the administrators know exactly what they are set up to do we won't have these problems.
'If we go into FIFA's statutes you will discover that their primary objective is to develop football. You organize and take part in competitions to enable you to assess the level of that development. But what development are we doing?', the former Super Eagles handler queried.
'So when we go into competitions or organize competitions what are we trying to assess? He asked. Is like a school teacher getting into a class and starting with an examination. Isn't that crazy? So that is what we are doing with our football.
'We have to update the knowledge and experience of our administrators. That is the first thing. Once that is done through the process of improving their knowledge and everything, they will now discover that the nucleus and the heart of any football administration is the technical department. So they will not treat the department the way they are treating it now. They just put anybody there.
'When I came back from CAF meeting in 2009, I gave a hint that we took a decision at CAF level that by January, 2010, all national associations in Africa must be sent their technical development program. They gave them the message and the letter came in January as I predicted. Up till now I don't know where that Technical Development is, I don't know', Onigbinde lamented.
'Let me go back to the memory lane. I got on CAF in 1988 and I conducted my first coaching course for CAF n Liberia in December 1988. At the end of the course I wrote a report in which I suggested that CAF should encourage all national associations in Africa to establish a functional department with full explanations. That paper was adopted by CAF and letters were written to all nations in Africa to establish a functional technical department. But the letter never saw the light of the day. When they contacted CAF, CAF said the originator of the letter was in their room (country).
'I can tell you sincerely that as far as I am concerned and as far as CAF and FIFA are concerned the Nigeria Football Federation has not got a functional technical department up till today. The NFF officials went to FIFA and CAF and were told by FIFA and CAF to go and reorganize their Technical Department.
'So if we are serious with our football I think this should be an opportunity for us to sit back and assess the whole situation and then find out where the problems are. As far as I am concerned, the problems are in development', Onigbinde disclosed.