BABA SUWE: WE'RE NOT MOVED BY PUBLIC OUTCRY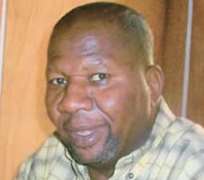 • Baba Suwe
The National Drug Law Enforcement Agency (NDLEA) said it is not perturbed by the public outcry over the continued detention of the ace actor/comedian, Mr. Babatunde Omidina a.k.a Baba Suwe.
The recent position of the agency was informed by the fact that the large chunk of substance, suspected to be hard drug was found in Baba Suwe's stomach by a CT scan at the Lagos State University Teaching Hospital (LASUTH). The scan was said to have been carried out in collaboration with an Indian doctor.
A source at the agency told Daily Sun that the suspect would still remain in court, after the 15 days ordered by the Federal High Court, presided over by Justice Okechukwu Okeke, until the scan machine proves otherwise.
'There is reasonable ground to still keep him in our custody. We are not perturbed about the public outcry. He is not going anywhere until he excretes the drugs detected by the CT scan,' he said. Keen watchers of the drama said the recent position of NDLEA portended danger for the popular actor, as he risked having his intestine ruptured or being operated on to have the alleged drugs evacuated from his stomach.
Baba Suwe was arrested at the Murtala Mohammed International airport (MMIA) on Wednesday, October 12, 2011 while on his way to France, what the anti-narcotic agency called 'suspicion of drug trafficking.'
The agency, which seemed confused over the matter, especially, since the actor failed to excrete the alleged hard drug and the fact that some human rights activist dragged the agency to court for violating his human rights, took him to LASUTH where the machine still indicated that he had some hard drugs stuck in his stomach .