…ALGON WARNS AGAINST PLOY BY PDP TO CHANGE SYLVA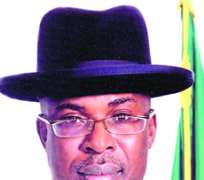 • Sylva
The Association of Local Governments of Nigeria (ALGON), Bayelsa State chapter has warned the national secretariat of the Peoples Democratic Party (PDP) against the plot to change Governor Timipre Sylva as the party's candidate for the February 2012 governorship elections.
The leadership of the PDP had been under intense pressure from a section of the party in Bayelsa State to dump Sylva for House of Representatives member, Mr. Seriake Henry Dickson as the party's candidate in the election. The pressure had further increased with the entrance of the former special adviser and governorship candidate of the Labour Party (LP), Mr Ndutimi Alaibe into the race after his return to the PDP.
However, in a rare show of solidarity, the eight local government chairmen in the state had led their supporters to hold a solidarity rally for Sylva, warning the national leadership of the party and those plotting to replace Sylva that they would not vote for another candidate apart from Sylva.
The chairmen and their supporters, who had received Sylva at the entrance of Yenagoa before proceeding to the Peace Park in a carnival like fashion said there was no vacancy in Bayelsa State Government House in 2012, adding that any attempt to change Sylva as the party's candidate would be resisted.
The Chairman of Yenagoa Municipal Council, Mr. Michae Ogbolosinga said ALGON organized the solidarity rally to affirm the association's loyalty to Sylva's administration.
ALGON Chairman in Bayelsa State, Chief Tiwei Orunimighe said as the rallying point of the people at the grassroots, ALGON had decided that Sylva was their candidate for the governorship election in the state in 2012.
Sylva, who addressed the crowd of supporters told them to ignore stories making the rounds that he was about to be changed by the party. He disclosed that he had already submitted his governorship form and also expressed regret that it was most unfortunate that in recent times, some politicians had been dragging the name of President Goodluck Jonathan into the local politics of Bayelsa, pointing out that these desperate politicians had been going around declaring that they were the adopted candidates of Mr. President.