FALCON'S FAILURE SEALS EUCHARIA'S FATE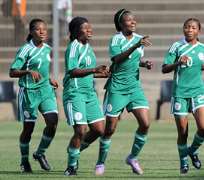 Falcons
Coach Eucharia Uche's last game in charge of the Super Falcons was Saturday in Cameroon, following stunning revelations that she has no contract with the Nigeria Football Federation.
Top officials said that unlike the case of Eagles' Coach, Samson Siasia, there will be no debate on the fate of Uche after she failed to qualify the women to next year's Olympics in London.
'She does not have a contract with the federation,' a disappointed top NFF official informed .
Former international striker Uche was to have been eased out of her job immediately after she failed to qualify the team for the recent All Africa Games in Mozambique, but officials decided to give her a second chance.
That allowed her to lead the team to the World Cup in Germany, where the Falcons failed to go past the first round in a group that included the host Germany and France. On Saturday in Yaounde, the team she led to win a sixth African Women's Championship title in November in South Africa lost out 4-3 on penalties after aggregate scores stood at 3-3 with Cameroon.
Nigeria will, therefore, not be represented in the women's football event of the London Olympics for the first time since 2000. Speculations now point in the direction of US-based Sam Okpodu to return to his former post as Falcons' coach.
However, another Falcons' former coach, Ismaila Mabo, said Uche was unfairly treated by the NFF as several assistants were imposed on her and she was constantly reminded that she has to qualify for the Olympics or fired.
'Uche has not been treated well by the NFF,' Mabo lamented.