Lagos Council Poll: Confusion As Ikoyi/Obalande Goes PDP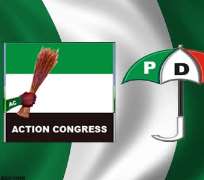 LAGOS, October 23, (THEWILL) – The Peoples Democratic Party (PDP) candidate for Ikoyi/Obalande LCDA, Lagos State, Mr. Ibrahim Babajide Obanikoro has upset the Action Congress of Nigeria (ACN) candidate and incumbent Chairman of the council, Hon. Adewale Razak Adeniji, according to unofficial numbers of the election conducted on Saturday, October 22, 2011.
The PDP candidate polled a total of 5294 votes while the ACN polled 4497. (See how they voted below).
The huge upset suffered by the Asiwaju Bola Tinubu led ACN which also controls the government of Lagos State has however stalled the announcement of the result so far by the returning officer for the Lagos State Independent Electoral Commission (LASIEC).
As at press time, the returning electoral officer and other senior officers who absconded from their duty post when reports filtered in that the ACN had lost in the local government are yet to return to their posts.
Some voters and residents of the area have gathered at the Ikoyi/Obalande LCDA office on Glover Road in Ikoyi insisting that the result is announced.
In view of the low turnout of voters for the poll, THEWILL checks at the council office revealed that electoral officers and polling officers who conducted the poll had filed in their respected numbers before 9pm on Saturday. It is however disturbing that the result has not been officially declared.
IKOYI/OBALANDE LCDA ELECTION RESULTS (OCT 22, 2011)
NO.
IKOYI 1 POLLING UNITS:
ACN
PDP
1
54,AWOLOWO ROAD
55
63
2
OLOFIN/ADEMOLA ROAD JUNCTION
NO POLLING UNIT PRESENT
NO POLLING UNIT PRESENT
3
ST.GEORGES PRY,FALOMO
19
19
4
IRETI GRAM.SCH A
31
67
5
IRETI GRAM.SCH B
29
93
6
POLO GATE,AWOLOWO ROAD,A
91
77
7
WARDER`S BARRACKS B
42
104
8
WARDER`S BARRACKS C
39
89
9
WARDER`S BARRACKS D
38
82
10
FRONT FALOMO SHOPPING COMPLEX BY MAITAMA SULE
27
58
11
BHOSOM`S JUNCTION BY RAYMOND NJOKU
63
65
12
OKOTIE EBOH`S BY AMU OFFICERS MESS
41
46
13
FOLAWIYO HIGH SCH
84
284
14
OBA ADEYINKA CAMEROON JUNCTION
21
49
15
MOBOLAJI JOHNSONS / ONITANA
25
32
16
MOBOLAJI JOHNSONS / GLOVER JUNCTION
NO POLLING UNIT PRESENT
NO POLLING UNIT PRESENT
17
17, JAMES GEORGE STREET
NO POLLING UNIT PRESENT
NO POLLING UNIT PRESENT
18
HOUSE 3/4 MOBOLAJI JOHNSON B/STOP
57
34
19
OBA YINKA OYEKAN / LUGARD JUNCTION
7
48
20
DOLPHIN ESTATE / CORPORATION ENTRANCE
NO POLLING UNIT PRESENT
NO POLLING UNIT PRESENT
21
DOLPHIN ESTATE /EXIT A
23
14
22
DOLPHIN ESTATE /EXIT B
NO POLLING UNIT PRESENT
NO POLLING UNIT PRESENT
23
HFP JUNCTION
35
28
24
OPPOSITE POLICE POST DOLPHIN
25
CORPORATION / IKEJA DRIVE JUNCTION A
54
67
26
CORPORATION / IKEJA DRIVE JUNCTION B
NO POLLING UNIT PRESENT
NO POLLING UNIT PRESENT
27
128, ASSOCIATION AVENUE
15
50
28
MAINLAND / ASSOCIATION AVENUE JUNCTION
NO POLLING UNIT PRESENT
NO POLLING UNIT PRESENT









TOTAL
796 (ACN)
1369 (PDP)
NO.
IKOYI 2 POLLING UNITS:
ACN
PDP
1
GERRAD RD B/STOP
NO POLLING UNIT PRESENT
NO POLLING UNIT PRESENT
2
45, CAMEROON RD OFF GERARD
52
70
3
LUGARD /BARROW AVENUE JUNCTION A
75
89
4
34, GLOVER ROAD
227
53
5
37, GLOVER ROAD (GK'S BOOTH)
32
35
6
37, THOMPSON AVENUE
91
95
7
ENTRANCE/ PARKVIEW JUNCTION A
16
58
8
SOULE CLOSE/PARKVIEW B
31
58
9
OLAJUMOKE/PARKVIEW C
28
38
10
ONITOLO AVENUE
NO POLLING UNIT PRESENT
NO POLLING UNIT PRESENT
11
REEVE ROAD
34
14
12
OJORA/ONITOLO (IBO'S BOOTH)
33
40
13
27B GERRARD ROAD (SEN. KORO'S BOOTH)
9
23
14
10 GERRARD ROAD
167
110
15
15A MILVERTON ROAD
29
17
16
JAMB OFFICE
13
26
17A
JABITA A
80
41
17B
BANANNA ISLAND GATE
NO POLLING UNIT PRESENT
NO POLLING UNIT PRESENT
18
OLOTO ONISOWO (IGINLA'S BOOTH)
67
34
19
LATEEF JAKANDE / FEMI OKUNNU RD .JUNCTION
30
36
20
9, BOURDILLION RD
31
59
21
ONIRU / MOORE RD JUNCTION (MAC DONALD)
NO POLLING UNIT PRESENT
NO POLLING UNIT PRESENT
22
KINGSWAY/ OLUWA ROAD JUNCTION
22
49
23
RUMENS / OLAWALE DAWODU JUNCTION
69
53
24
MACPHERSON AVENUE, ILADO (ENTRANCE)
16
25
25
MACPHERSON AVENUE, ILADO (EXIT)
NO POLLING UNIT PRESENT
NO POLLING UNIT PRESENT
26
ADEYEMI LAWSON / ILU CLOSE
22
40
27
ILABERE
13
33
28
OYINKAN ABAYOMI
53
41
29
IRETI PRI SCH A
23
17
30
FALOMO POLICE BARRACKS A
62
57
31
FALOMO POLICE BARRACKS B
44
124
32
FALOMO POLICE BARRACKS C
45
83
33
GIWA BARRACLS UNDER BRIDGE D
73
62
34
230 BOURDILLON ROAD
75
11
35
Osborne Foreshore
NO POLLING UNIT PRESENT
NO POLLING UNIT PRESENT
TOTAL
1562 (ACN)
1491 (PDP)
NO.
POLLING UNIT
ACN
PDP
1
OBALENDE PRY.SCH. A
38
119
2
OBALENDE PRY.SCH. B
80
96
3
OBALENDE PRY.SCH. C
51
101
4
OBALENDE PRY.SCH. D
60
100
5
BLOCK 37, KOSOFE ST, HOUSING EST.
48
76
6
AVENUE CORPORATION DRIVE BESIDE MOSQ.
73
89
7
BLOCK 12, AGEGE LANE
88
61
8
BLOCK 35, SHOMOLU AVENUE
83
72
9
BLOCK 9, ISOLO ROAD
124
102
10
NIGERIAN GIRLS GUILD A
76
38
11
NIGERIAN GIRLS GUILD B
67
39
12
NIGERIAN GIRLS GUILD C
NO POLLING UNIT PRESENT
NO POLLING UNIT PRESENT
13
DODAN BARRACKS GATE A
NO POLLING UNIT PRESENT
NO POLLING UNIT PRESENT
14
DODAN BARRACKS GATE B
56
77
15
DODAN BARRACKS GATE C
70
53
16
DODAN BARRACKS GATE D


17
ETI-OSA HEALTH CENTRE ,OBALENDE
57
86
18
POLICE BARRACKS GATE
38
93
19
POLICE BARRACKS GATE
42
128
20
POLICE BARRACKS GATE
36
153
21
GIRLS MODERN ACADEMY
198
57
22
AUNTY AYO COMP.HIGH SCH
65
38
23
SCHOOL OF NURSING , AWOLOWO RD
16
62
24
IGBO/AJENIYA ST, JUNCTION
66
77
25
AJENIYA/OJO STJUNCTION
28
58
26
ODO/KEFFI
31
42
27
82,ODO STREET
27
34
28
ODO/OJO ST.JUNCTION
77
81
29
ODO/IGBO ST. JUNCTION
100
87
30
4,ODO STREET.A
46
60
31
ODO/TOYAN ST BY ST. GREGORY`S JUNCTION B
43
91
32
ST GREGORY`S COLLEGE A
61
40
33
ST GREGORY`S COLLEGE B
70
31
34
ST GREGORY`S COLLEGE C
70
43
35
HOLY CHILD COLLEGE A
46
43
36
HOLY CHILD COLLEGE B
56
56
37
HOLY CHILD COLLEGE C
52
51
SUMMARY
2139 (ACN)
2434 (PDP)
SUMMARY OF RESULTS
ACN
PDP
IKOYI 1
796
1369
IKOYI 2
1562
1491
OBALENDE
2139
2434
TOTAL
4497 (ACN)
PDP (5294)