US Tests Plan To Speed Up Airport Security Checks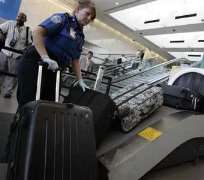 Frequent flyers in the United States who undergo prior government background checks are being allowed through airport security screening faster under an initiative being developed by the Transportation Security Administration TSA.L, the agency said on Tuesday.
The PreCheck program, whose goal is to speed up the airport security process, is being tested in Miami, Dallas, Detroit and Atlanta for the moment, but could be expanded to other cities if successful, TSA officials said.
Fewer than 10,000 travellers are now participating in the program, which allows selected frequent flyers boarding American Airlines (AMR.N) and Delta Air Lines (DAL.N) flights to use express security lanes -- and avoid the hassle of having to remove coats and shoes when they pass through detectors and screening devices.
The participating passengers, who must be U.S. citizens, have undergone prior background security checks.
"It's a faster process" said TSA's Federal Security Director Mark Hatfield. "Your laptop can remain in your bag, your see-through liquids bag can stay as well. You don't have to do all the break down and separation," he said.
The PreCheck program reflects efforts by the TSA to address passengers' frustration at, and criticism of, stringent airport security checks. Other initiatives include a proposal to spare small children from pat-downs.
TSA officials said that background checks would help focus agency resources on high risk individuals, while making it easier for low risk travellers to board their flights, because sufficient data about them would already be on file.
Participants in the first phase of the PreCheck program, were invited to join the program by Delta and American Airlines after the companies had determined they were frequent travellers who fit a series of characteristics.
The criteria and information included travel history and dates of birth, but TSA officials declined to spell out all of the qualifying details for security reasons.
They said however that the scheme would extend to other airlines and other cities if the logistics were successful and if enough passengers agreed to go through background checks.
"When this program is fully up and running and populated we could expect throughput at the PreCheck lane ... to exceed throughput at other lanes," Hatfield said.
Travel industry representatives welcomed the initiative.
"We are encouraged to see TSA.L Administrator (John) Pistole moving away from one-size-fits-all screening procedures toward a risk-based approach" said Roger Dow, president and CEO of the U.S. Travel Association.
At Miami airport, some passengers said they would be willing to submit to prior background checks to be able to get through airport security quicker.
"I think it will be awesome for anyone who travels frequently," said Delys Llerandi, an airline employee who said she takes domestic flights about once a week.
"As long as it's for the safety of the passengers I'm willing to do whatever it takes" she said.
REUETRS