House Speaker Woos Uk Immigration Minister Over Insecurity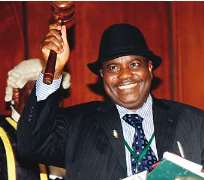 ABUJA, SEPTEMBER 26, (THEWILL) - Speaker of the Nigerian Federal House of Representatives, Hon. Aminu Waziri Tambuwal has called on the government of United Kingdom (UK) to lend the country a helping hand as it seeks to address its terrorism challenges.
Tambuwal made the appeal Monday in Abuja while receiving the British Minister of Immigration, Damian Green, who led a business team that included British High Commissioner, Andrew Lloyd, to pay a courtesy call on the National Assembly, in Abuja. Damian said that his team was at the House to seek and explore avenues of business collaboration with the United Kingdom, especially in trade increase, and other areas of mutual cooperation.
"I will take this opportunity to further solicit your understanding and cooperation in supporting the Nigerian government to address the security challenges we have been facing recently. We believe that your government has a lot to do in terms of providing support to our government in that regard," Tambuwal admitted while speaking with them. "Please, I request that you come in and support us towards dealing with our own security challenges, as you have been doing in other countries."
Lamenting problems experienced by Nigerians as it concerns issuance of UK visa, which he said had already been addressed by the federal government, he promised that the country would continue to support Britain based citizens who engage in legitimate trade and business. He also revealed the readiness of the Nigerian government to grant ten-year visa stay to the UK business community and other foreigners showing legitimate business interests in the country. "I believe that the UK will further extend the same courtesy to the members of the Nigerian business community who are doing business in the United Kingdom," he said.
He equally sued for UK support in capacity building and other sundry trainings for the Legislature, saying, "We need a lot of support from your [UK] parliament towards the training of our staff in ensuring that they are better informed and better educated in handling and dealing with parliamentary businesses."