Konga lays claim to Wande Coal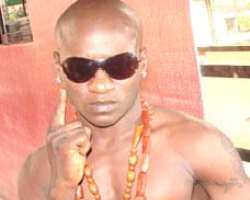 Some people claim that other artistes have stolen their songs, while some say that, their beats are being copied. 'ABC stole my song', 'XYZ... stole my beat' are common statements you will hear in the industry. What is however uncommon is when an artiste complain that another artiste stole his artiste. Confusing? Well, Compass Entertainment was also confused during the week when Hiphop artiste, Konga revealed that Mo'Hits records own by Don Jazzy and D'Banj, stole his artiste, Wande Coal.
Wande Coal no doubt is the the hottest hip hop artiste in Nigeria today. His new album, M2M which means, Mushin to Mo'hitts, reflects how his life has changed since he joined Mo'Hitts.
Konga who had had a phenomenal run with his hit single, Baby Konga, two years ago, is currently battling for relevance. He revealed on-line during the week that he found Wande Coal, and also helped him to build his musical career. Music professionals have condemened this statements made by Konga.
Even if he did discover Wande Coal, that does not give him a right to him. He also is yet to show a paper where Wande Coal signed on to be his artiste.