Saheed Balogun steps up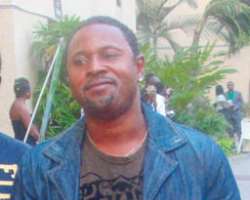 When Saheed Balogun decided to call the title of his latest movie Oba Asa which means the king of eagles, not a few people read meanings to it. Those who know Saheed know he was heading somewhere. And true to their feeling, Saheed is now somewhere.

The celebrated crossover actor who entered the anal of history as the first and still the only producer to have produced a two cast movie, Modupe Temi and a three casts movie, Gbogbo Ere is now operating the affairs of his business in the foremost business district on the mainland in Lagos, Allen Avenue, Ikeja, Lagos and now cruises around in a 2008 model Toyota Camry car which we learnt cost him about N4.2 million. People who know squealed to us that he now lives in a house of his own at Ikorodu as well.
Good times are definitely here for the man many refer to as the James Bond of Nollywood. This might look trivial, but for those who know anything about Nollywood, this is monumental achievement, in the sense that you can count on your fingers' tip the number of Nollywood stars with offices and good cars both in English and Yoruba genre. Little wonder AMAA complained that getting invitation cards for the award to lots of stars was herculean task because very few has known business address.
Things are definitely moving up and the star is not about letting up as he is said to be working round the clock to release his other works, which were shot in English and Pidgin English. That is also a first from an actor that leans heavily towards the Yoruba side of the industry. Meanwhile, the marketer of Oba Asa, Aina Kushoro of Highwaves Video Marts told us on phone that Oba Asa Part Two which was to be released on May 11 will now be released in July due to the fact that necessary approval for its release was not secured.