I love Indian hemp aroma but… Stereoman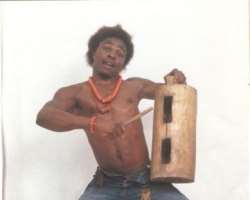 Due to his hyperactivity on stage, rumours going roundthe mills have it that he and his dancers get stoned before getting on stage. One only needs to watch him do what he knows how to do best to come away with the impression. However, Glo Ambassador, Original Stereoman Ekwe, has denied ever smoking Indian hemp or taking any performance enhancement drugs to boost his career!
The act spoke to http://nollywoodgists.com during the just concluded Glo Rock N' Rule Concert, which took him across the length and breadth of the country.
"I don't smoke Indian hemp," he said in an exclusive chat in Makurdi, the Benue State capital, "but I like the aroma. I have never smoked it in my life. Everything God has created is what I eat. I love alcohol very much but I don't drink to stupor either. I think I just lose myself in the music," he said, explaining the reason for his hyperactivity and that of his dancers on stage, "the music is all I live and breadth so when I am on stage, I have to give it my best expression."
Dismissing rumours that he is fetish he added: "Jesus is my only juju."
Once upon a dream
From the ghettos of Amuwo Odofin, this strapping youth rose against the odds in the mid 2000s. And like everything that is good, he had to fight for every ground he won at a prize. Today, he's a Glo Ambassador.
"It was tough," he recalled, "It's always been my dream to be a star. It all began when I was very young. Back then I received a lot of discouragement; many people actually wrote me off and wouldn't give me a chance. I had to hawk my CDs even after I got signed onto a label. I never believed that music would bring me this far or that I would ever be a Glo Ambassador."
According to him: "They said I was fake because I was doing something new. Nobody wanted to associate with me. They felt I was the wrong man. They said I was smoking Indian hemp. People down-graded me but the most important thing was holding unto God and believing in myself."
He said that what kept him going was that from the beginning, he knew it would be a rough ride to the top so he committed all his energies to the race for success and was determined not to lose focus no matter what people said.
"However, there were a couple of people who believed in the dream so they kept me going when the road was rough. They kept urging me to do more."
Rationalising the challenges he faced then, he said: "That's what life's all about. You start from a level and move up. It's like moving from primary school to secondary school and finally, tertiary, and I thank God for the positive change. The world is all about challenge but when you believe in God and you saw, he will ultimately reward you. I feel rejuvenated. I feel happy that I could come this far."
Glo Ambassadorship
From a humble beginning, he has become a Glo Ambassador alongside the likes of D'Banj, Basket Mouth among a host of others.
In retrospect he said: "My Glo Ambassadorship is the work of The Most High because when you sow you must reap. I always say it that I never believed that music would bring me this far. I am from a very humble background and growing up was rough to say the least. I thank God for giving me the opportunity to touch lives through my music. I thank Glo for giving me the platform. I was on Campus Storm and now, it's Rock N' Rule. I am inspired to do more."
Current album
Following the success of his debut, Stereoman dropped a second album early last year entitled Come Back Again. But unlike his first effort, it has failed to make any significant impact. This has compelled critics to label him a fluke: "It is called Come Back Again," he said, explaining why the album has failed to fly, "I am working with a greedy label that didn't know what they were doing. When the money came due to the success of my first album, they began to misbehave. They are responsible for the level it is now. They have not been pushing my game and I am very sad. I have fulfilled my obligations but they simply failed to play their own part. They are hoping that since I am already known, people will buy what ever I release even if they don't promote it! But I have fulfilled my contractual obligations with the label. My fans should watch out for my next album."