John Fashanu denies pocketing Oceanic Bank's N25m -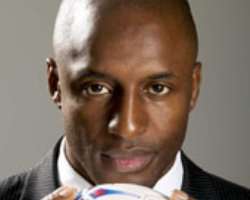 Former English Premier football star, Ambassador John Fashanu, has debunked the talk in town that a N25m gift from billionaire, Alhaji Aliko Dangote, to the Football Challenge with Fash, was responsible for the Oceanic Bank's withdrawal of their sponsorship of the reality TV show. The ex soccer star debunked the tale while speaking with Encomium Weekly Thursday, April 9th, 2009. He described the alleged fraud as a baseless rumour which lacks every element of truth.
Some watchers of the joint venture between Oceanic and Fashanu had earlier alleged that the one year relationship btw then had broken down irreparably over a N25mil donation made by Dangote which John Fashanu did not turn into the coffers of Oceanic Bank.
according to tale bearers, Dangote was disappointed when at the grand finale of the Football Challenge with Fash, the bank's managing director, Mrs. Cecilia Ibru, failed to acknowledge his financial support to the programme.
Dangote, as we gathered, had asked why no acknowledgment was made of his N25m gift allegedly delivered through the ambassador. Shocked by the news of the donation, Mrs Ibru called for the termination of the agreement between Fashanu and Oceanic Bank.
This is what Fashanu had to say about it
John Fashanu "Yes I have parted way with Oceanic Bank but it's not because of any scandal. I had a one year agreement with them which ended in Jan. 09. As far as I am concerned, nobody collected any money from anybody. I did not collect any money from anybody. I gave Oceanic Bank only one season and it has ended successfully. I have since moved on. "
Leke Adeneye (Encomium)