Lagos Govt to filmmakers: Register before you shoot, sell films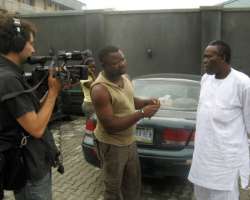 FILMMAKERS intending to shoot or sell films in Lagos State are henceforth banned by the government from carrying out their business unless they are licensed... by the Lagos State Film and Video Censors Board (LSFVCBV).
The ban according to officials of the LSFVCB came into effect January 1, 2009 following a memorandum of understanding signed by both the LSFVCB and the National Film and Video Censors Board (NFVCB).
Official of the Lagos board who spoke without disclosing her names said everything had been done to ensure there was no double taxation, adding that those who had already been licensed by the national body would not be affected by the directive.
She said members of the board had mounted an intensive enlightenment campaign throughout the state visiting local governments to enlighten film makers on the need for them to come forward and obtain license to shoot and sell films in the state.
According to the form made available to the us, various fees have been stipulated by the state government for filmmakers hoping to use the state as a suitable location.
According to the form, Nigerians shooting drama would pay a fee of N25, 000, while foreigners shooting same film would pay a mandatory fee of N150, 000 into the state coffers.
Nigerians shooting documentary or feature film are required to pay N150, 000, while foreigners shooting this type of film would be made to pay between N150, 000 to N200, 000. Besides, filmmakers would in addition be required to pay N500 per crew if they decide to shoot in Lagos irrespective of nationality.
The form also contains information such as what the filmmaker hope to deplore to location, whether or not crane or arms and ammunitions would be used and services they might require the state to offer to make things easy for them on location.
Filmmakers are also required to disclose the total number crew to be deplored and other information relevant to the film in question.
By Emmanuel Ukudolo