I took a break to plan my future and then ...— Tosin Jegede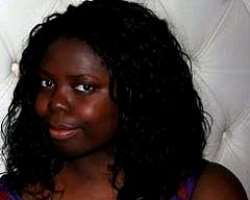 REMEMBER Tosin Jegede, the kid-singer that made history in Nigeria as the country's youngest music star in the 80s.
She is really matured now, and radiating with life. A highly talented kid-singer, who relocated to the UK over 20 years ago in pursuit of her academic career after releasing two albums.
Tosin is back for good. She has not forgotten her roots. Fondly remembered in the late 1980s for her persuasive songs, urging parents to listen to their children and pay their school fees among other hits.
In this interview, young Tosin, now in her late 20s speaks about her project, The Tosin Jegede Foundation, her plans to stage a come back to music as well as the biography of Cardinal Olubunmi Okogie, which she presented to the public on Thursday, in Lagos. Excerpt
It's nice to see you.
Thank you.
You're more of a woman now.
Yeah, I'm grow up. It's been 15 years. It would have been weird, if I'd have remained a child.
Did you still have your videos
Somewhere. Somehow, I did.
When was the last time you set your eyes on any of your videos?
Oh, it's been ages. Maybe, when I was in Nigeria in 1994 or '95, thereabout. So, it's been a while.
Do you sometimes remember doing all those stuffs when you were a kid?
I do. Like when I met Fela. As a child then, Fela was a scary man to me. When I met him, I was quite scared. I remember meeting Sunny Ade too. Performing at the OAU Summit, when I heard that Nelson Mandela was going to be around. I was like Wao! I remember my first time ever in Abuja too. The Nicon Hilton Hotel experience... I remember those little...little things. It's quite fun too.
Did those experiences helped you in any way during your growing up days?
Funny. I just see it as an experience I had. I think in a sense, it's been part of my being a star. If I were to put it that way. And that's just part of it and all I take it as. Its just like all the other parts of my life like growing up, going to school and meeting friends.
I'm sure when you traveled out of the country, it was freedom at last. Nobody probably remembered Tosin again...
It was fantastic because here, I couldn't really go out. When I travelled out, I probably was a focal point. And then, before I could know it, people started crowding around me and ... I really felt different going over there and I'll be outside and no one is even looking at me twice or they just walk past. However it's quite good to have spent the first few years of life that way.
Wasn't there any Nigerian that could identify you at a point?
After a while, Nigerians started coming after me, asking whether I was the same Tosin Jegede that they used to know way back in Nigeria. But it's really being a long time, how do you recognize me? So I get that once in a while.
Do you still sing?
I can try.
Whatever happened to your voice?
It's still there, somewhere but I sort of struggle to do it. I still enjoy singing. But how good I can sing, might be another puzzle.
Your dad wrote most of the songs and he was your manager while you were a kid-star. How easy was it for him to assume the role of being your dad and at the same time, your manager?
When I was younger, my dad wrote most of my songs and we'd go into the studio and record. Then, my dad would be like 'do it again. You don't get it right or your mouth s too close to the microphone....'
Then after a while, you get tired. It wasn't too much pressure, considering that I was only about 5 when I recorded my first album. But as time went on, my dad ceased to be my manager. For the 2nd album, I had a manager, my dad wrote the songs but then he worked with some other people as well.
After a while, he began to understand. There were some days, I'd be there every single day during the mixing of my 1st album.
For my 2nd album, my dad was like 'okay, you get tired, so they mix for two weeks without my being there and then I come and do the voice. So we had a good relationship but it was bitter-sweet because things like when I'm recording I can't drink cold drinks and I can't eat groundnut were issues.
Held go like after the recording, you can have as much of these things as you like. I just got to understand that and we didn't even have an agreement because I'm still really close to my dad and will always be close to him.
Did you remember crying in the studio?
I think there were quite a few times that I just got upset. There was one particular day my dad actually told me, I think we were recording my 2nd album. I can't remember what song it was, and because the 1st day we were there, I was there with my friends and they were doing the chorus. So we were all playing around.
I had to come back on the second day, which wasn't planned and be on my own. I got tired and said I just wanna go home, and my dad shouted at me that we paid for the session. So, I really got upset and started crying and couldn't do nothing else. I wasn't feeling pushed.
So what did you study in school?
I studied Business Administration and Mathematics.
Why did you decide to take a break from music?
I think when I left Nigeria, it was more like taking a break from celebrity life. When I got to the UK, I realized how they treated celebrities. The press and people always wanting a piece of the action. So, I said I want to stay away from this for sometime. Now, I realized how much I was young to have stepped out of it. But I just felt I should stay off music for a while, so I could basically be myself and understand myself the direction of my life.
Getting into music..
When I was till in the UK, I used to visit the motherless babies home. I remember that was the reason I started singing. It was because I went to a motherless babies home in Isolo and I saw children there and I thought it would be good to sing for them to make them happy. It was like a small girl's dream but it happened. I was really happy when I could do a concert and my dad donated the proceeds from that concert to charity. I felt, I was doing something. and that's really where my passion has been, charity.
What are you currently doing?
But being away from music, I've realized that I can't really achieve now that because it was the money I made from singing that helped me to touch the lives of other people. But the passion is still in me. So, I recently set up a charity organization: The 'Tosin Jegede Foundation.' I'm basically trying to push this forward.
Over the last one year, I've tried to dedicate more time to it. In 2005, I did an exhibition to raise money for the foundation and that's what I'm doing now. The major thing you'll see soon is a biography which I've written on Cardinal Okogie.
Did he let you do that?
The Cardinal is my friend. I go to his office and he's really friendly. He's been really encouraging too since I was young. When I was about 14 or 15 years old, I actually asked if I could write his biography.
I conducted the interviews and gathered all the necessary information for the writing of the book. It was launched on Thursday at McGovern Hall, St. Agnes Catholic Church, Maryland, Lagos. That's the 1st major project I would have done.
How easy was it getting him to speak with you considering his busy schedule?
It's true he is busy. I just had to have a few sessions of appointments with him but then, I was back and forth between Nigeria and UK, so over a period of time, I was able to finally get that end product. One, it was already done. I was waiting for him to read through and approve of it.
So what do you plan to do with the proceeds from the launch?
The proceeds will be going to the Tosin Jegede Foundation. There's a project I'm launching in September. The foundation focuses on Children and Education. So, its going to be about creating awareness for the importance of education, the quality of education a well and affordability. That's really what we want to do, so whatever project we undertake will revolve around that foundation's focus.
Don't you think music can be a veritable tool to garnering support for your pet-project?
Music is very powerful. I think it will.
Don't you also think it'll be good to go back to work and make it?
I will surely go back to the work . I'm not really walking away from the name. I think, I've done that for quite a few years but I'm involved in the arts as well.
The question now is when? I feel more like I need to push this forward before I can go back to my first love-music. Because there's so much happening in music now that for me to come back, I need to really position myself properly. I just can't rush into it.
What experience of work did you have?
In the last two years, I was working in UK, it was quite totally different. I also tried to raise money in that sense.
But back here, it's been quite a mixture of different things. I'm not married. Really, I have a very strong confidence. I think I've been lucky in the times that I've been away from public glare, have built confidence in myself. I am happy with myself.
By Ogbonna Amadi