LET'S FIGHT, ADE CHALLENGES ALI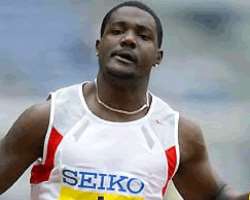 Former national welterweight champion, Yisa Ade, has thrown an open challenge to world cruiserweight champion, Bash Ali for a boxing contest.'I have been waiting for the opportunity and I believe this is the time to fight Ali,' Ade said.
According to him, he knew Ali would not want to fight him because he hates being taking by surprise. He added that as a true champion he claimed to be, Ali should be ready to fight any time challenges come to him.
Ade, however, appealed to boxing promoters to latch on the golden opportunity to promote the fight in the country.
'Ali has been boasting of having his Bendel Insurance cover in fights, but it can't work on me,' Ade boasted.
Similarly, Ade's manager and trainer, Jimoh Aremu, said he would be glad if Ali would accept the challenge and come out to fight.
'My boxer plans to finally retire Ali this time around. Enough of his tricks. You don't become champion by sleeping in your house, true champions are found in the ring defending their titles. Ali should come out and fight a true Nigerian fighter,' he said.
Ade has fought a total of 23 fights since he turned professional in 1979, won 20 and lost three, winning 19 by knockouts.
He won the national welter-weight belt by knocking out Yekini Taiwo of Oyo State in the fourth of their scheduled 12 rounds bout on April 30, 1986 inside the Indoor Hall of the National Stadium, Lagos.
Ade retired from active boxing, but later staged a comeback in 1997 and defeated Supreme Emeti of Imo State in a contest in Lagos.
He retired again due to lack of promotion, but plans to make a third comeback this time around.
Ali's response is being awaited.