MUSA, KAYODE VOW TO WRECK ENGLAND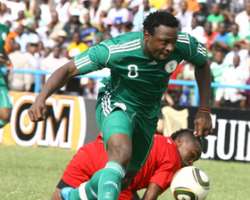 Nigeria's Ahmed Musa and Olanrewaju Kayode have promised to stop England in Wednesday's quarter-final duel in the FIFA Under-20 World Cup in Colombia.
The two Flying Eagles players already had 3 goals each in their kitty, said the English team would crumble in the knockout stage. 'We have a great team and after emerging as African champions, we are on target to becoming world champions,' according to Musa. In the same vein, Kayode said: 'I'm really focussed for this Under-20 World Cup after I did not do very well at the Under-17 World Cup two years ago.
'This tournament is very important to my career because we will win the World Cup and after that I hope to play in Europe, preferably in England or France. 'In 2009, Ghana won both the African Youth Championship and then the World Cup. It is our time to be champions of the world.'
Coach John Obuh is also confident that his wards would advance to the final of the competition: 'We are now looking forward to England after the match against a very good Saudi Arabia team. We will win to qualify for the next stage of the World Cup even though we respect all the teams still left in the competition.
'Against Saudi Arabia, some of my players were observing the Ramadan fasting and this may have affected us.
'We also did not seem to have the right attitude for this game and tactically we were not up to scratch, but we made some changes and that brought life to the attack and that helped us to win the game.