UBA Releases Half Year 2011 Results With Strong Balance Sheet Growth And Improved Profitability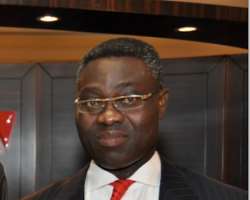 UBA GROUP MANAGING DIRECTOR, MR PHILLIPS ODUOZA.
One of Africa's largest financial services Groups, United Bank for Africa (UBA) Plc, released its financial performance for the first half ended June 30, 2011. The results were impressive, as the Group recorded noticeable improvements across major lines of the income statement and recorded strong growth in financial position at the end of the period.
Gross earnings of N87.7 billion were recorded in the first half of the financial year, as the mix of interest and non-interest income was slightly altered from recent trends. Non-interest revenues grew by 17% to N30.3 billion, leading to an increase in the proportion of fee-based income to 35% in the first half of 2011. It is instructive to note that the benefits of risk asset expansion are yet to impact on fund based incomes, thereby presenting ample room for revenue expansion in the second half of the year.
Operating income rose to N65.5 billion (N63.7 billion in 1H10) on the back of strong fee-based incomes.
Profits before tax was N10.1 billion compared to N8.6 billion recorded in the corresponding period of 2010, while profits attributable to the Group rose by 90.3% to N8.2 billion (with its bank subsidiaries in Africa contributing to Group results). According to Mr. Emmanuel Nnorom, Executive Director – Finance, "UBA's performance was bolstered by Management's concerted efforts to curtail operating costs evidenced by a 2.4% reduction in OPEX from N51.8 billion in June 2010 to N50.6 billion in June 2011; in spite of the N4.9 provision charge made to the income statement".
Overall the balance sheet size strengthened further with total assets and contingents closing 17.1% higher than the full year 2010 position to N2.66 trillion. This growth was driven by risk asset expansion recorded during the period under review. Attesting to the essence of its wide distribution channels and the quality of some retail liability products launched during the period, deposit base grew by 11.4% to N1.41 trillion (N1.27 trillion in December 2010).
In line with full year projections, loan book has also grown by almost 14% to N715.8 billion, bringing Group loan-to-deposit ratio to about 51%. Whilst the Group looks forward to enhanced interest revenues from increased lending, it continues to seek avenues to extend quality credit to its teeming customers and clients. Notwithstanding, UBA maintained a good proportion of liquid assets in its aggregate asset base closing with a liquidity ratio of 42% at the end of the period.
Driven by solid shareholder funds of N187.1 billion (N179.4 billion in December 2010), capital adequacy ratio remained strong at 17%.
The release of the half year results coincides with the announcement of key Management appointments, as part of the steps required to re-organizing its operations in line with the Financial Holding Company model. As a Financial Holding Company, the Group will be known as UBA Holdings Plc; comprising of UBA Nigeria Plc, UBA Capital Holdings and UBA Africa Holdings as subsidiaries. The move is aimed at strengthening its operational excellence and pan African aspirations.
UBA Nigeria Plc is a commercial bank with International banking status and oversees the banking operations in Nigeria, New York, and UBA Pensions Limited. The entire Group's banking operations/subsidiaries in Africa (currently 18) will be embedded in UBA Africa Holdings Limited, while UBA Capital Holdings Limited will hold all the Group's non-bank businesses.
UBA is a leading Pan African financial services Group with presence in 19 African countries, New York, London and Paris. Headquartered in Lagos, Nigeria, the Group provides universal banking services to its diverse customer groups.