EMOTIONS AS NOC INAUGURATES RUGBY FOOTBALL FEDERATION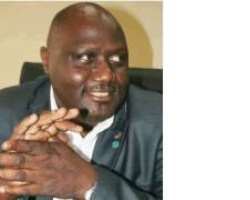 AT last, there were banters, back-slapping and huggings as the Nigeria Olympic Committee, NOC, brought the warring parties of Nigeria Rugby Football Federation under one umbrella at the NOC Secretariat. It was during the inauguration of the board which finally signalled that peace had returned to the body that gone on different ways.
It was an emotional inauguration that made the NOC Scribe, Honourable Tunde Popoola wipe tears. Director General of the NSC, Dr Patrick Ekeji who was represented by Mrs Tayo Oreweme told the combantants to channel their energy into making Rugby the best sport that would attact sponsorship and bring honours to the country. 'I'm happy that Rugby is now one big family. Today is a day of reckoning.
Tunde Popoola
Together, we can forge ahead and like a bunch of broom, we can have a clean sweep', he admonished the 16 new members. While inaugurating the board, the first Vice President of the NOC, Dr Jonathan Nnaji who represented NOC President, Engr Sani Ndanusa charged the new board to rise up by repositioning the sport for better results. We are happy that Rugby is now an Olympic sport and with many talents in Nigeria, the sky will be the limit for the sport'.  NOC Scribe, Popoola promised the NOC would never interfer in the running of the board.
President, Dr Richard Ajayi thanked the NOC for their fatherly role and promised Nigerians that with his new members, Rugby would soon kick itself into the consciousness of Nigerians.
Others members of the board include; Senator Isa Kachako(1st Vice President),Prince Kayode Oguntayo(2nd Vice President), Beyioku Niyi(Secretary-General), Dr Andy Fodoju, Prof Winston Bell-Gom, Odum Dike, Alfa Idris Ahmed, Edward Pam Fom, Barrister Akin Akintola, Richard Raphael, Mrs Grace Kurah, Mrs Patience Kapella, Tinubu Kunle, Tunde Akerele and Ntiense Williams as the Technical Director of the board.