NIGERIA'S FOOTBALL CRISIS: EKEJI HEADS TO FIFA WITHOUT NFF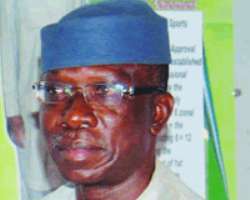 Director-General of the Sports Ministry, Dr Patrick Ekeji, has expressed eadiness to circumvent the Nigeria Football Federation's (NFF) obstacle in his bid to send a delegation to FIFA's headquarters for discussion that could end the crisis of Nigerian football.
In view of the legality faceoff between the NFF and the controversial Nigeria Football Association (NFA), Ekeji after several consultations had set up a committee that will visit and present government's position to the world football governing body in a bid to resolve once and for all the incessant legality status of the NFF.
But feelers from within the Glasshouse have it that the trip will not get the blessings of almost all the board members as the President, Alhaji Aminu Maigairi, 1st Vice President, Chief Mike Umeh, influential board members, Effiong Johnson and Chris Green have all maintained that there was no crisis in Nigerian football, while also challenging the authority of the Sports Ministry to embark on the trip.
However, Ekeji has said that irrespective of the objection of the NFF to come along on the proposed trip, the delegation will still head to Zurich as there are other avenues to be exploited to make it happen.
'Well, if they refused to tag along, there are other ways to exploit. I mean, we are talking about government's position here and this is also a matter of national interest', Ekeji maintained.
He further revealed that traveling documents for the delegation are already being processed.