6th Senate Passed 91 Bills In Four Years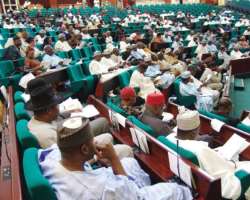 FEDERAL LEGISLATORS INSIDE THE NATIONAL ASSEMBLY.
ABUJA, June 02, (THEWILL) - The 6th session of the Senate which finally wound down today passed 91 bills in four years, though 514 bills were introduced within the period.
Out of the number, 130 bills passed second reading, 458 were read for the first time and four bills were negative.
Giving the Senate's status of measure from June 5, 2007 to date, Chairman Senate Committee on Rules and Business, Senator Aloysius Etok said the total number of bills included Executive and members bills including those from the House of Representatives for concurrence.
However, he informed that the major highlights of the 6th Senate was the adoption of the resolution of the 'now historic' "doctrine of necessity', which installed Dr. Goodluck Jonathan as Acting President on February 9, 2010, the alteration of the 1999 Constitution and the Repeal and Re-Enactment of the Electoral Act 2010, which conferred credibility to the just concluded general elections.
"The general elections were adjudged as the most credible since the coming of the civil rule to Nigeria. Apart from the passage of Bills, the 6th Senate passed a total of 92 resolutions from June 5, 2007 to June 2, 2011", he said.
According to Etok, the 6th senate recorded for the first time in history of the Nigerian Senate the confirmation of the appointment of Arch. Namadi Sambo as the Vice President of the Federal Republic of Nigeria on May 18, 2010 and several other confirmation of appointments including the current Chief Justice of the Federation, Ministers, Justices of the Supreme and High Court, Governor and Deputy Governor of the Central Bank and other Chairmen and members of different boards and parastatals.
Nonetheless, he disclosed that the following bills were the most notable and formed the landmarks in the life of the Senate. The bills include, National Health Bill, Hydroelectric Power Producing Areas Development Commission Bill, Freedom of Information Bill, Prevention of Terrorism Bill, National Minimum Wage (Amendment) Bill, Anti-Money Laundering Bill, National Sovereign Investment Authority Bill, Asset Management Corporation of Nigeria (Establishment) Bill, Alteration of the 1999 Constitution Bill, FCT Abuja Area Courts Bill.
Others include National Human Rights Commission Act, (Amendment) Bill, Remuneration of Former President's Head Federal Legislative Houses and Chief Justices of the Federation and other Ancillary Matters Bill, Independent National Electoral Commission Act (Amendment) Bill, Institute for Democratic and Legislative Studies Act (Amendment) Bill, National Assembly Service Commission Act (Repeal and Enactment) Bill and Employees Compensation Bill.