N10BN LOAN: BANKOLE SNUBS EFCC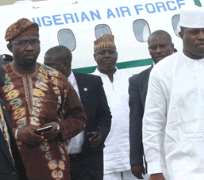 Hon. Dimeji Bankole
Embattled outgoing Speaker of the House of Representatives, Hon. Dimeji Bankole yesterday failed to appear before the Economic and Financial Crimes Commission (EFCC) following an invitation to make some clarifications concerning a N10 billion loan taken on behalf of the House.
Bankole, was billed to answer the EFCC summon on 26th of last month but pleaded for more time and was rescheduled to report by 11.am yesterday. But he was conspicuously absent at the commission as at the time of filing this report.
Reporters from various media houses had besieged the EFCC headquarters at Wuse 2, Abuja at about 10.00 a.m, anticipating the arrival of the embattled speaker but waited in vain until about 5.00pm.
A source at the commission who spoke with the Daily Sun on the condition of anonymity, said: 'Instead of Speaker Bankole to cooperate with the Commission in the matter, he is trying to make things more difficult for himself by trying to get shortcut. He did not know that his days are numbered. We'll only give him next week Monday.'
But in a swift reaction, Bankole denied snubbing the anti-graft commission.
According to his media aide, Mr Ebomhiana Musa, 'the Speaker did not snub the EFCC. He has high regards for constituted authorities including the EFCC and its leadership.
'The Speaker is not running away; he has nothing to hide. As soon as he is through with the handover activities that he's been very busy with, he'll honour the invitation.'
Meanwhile, the commission in a statement has raised the alarm over an alleged plot by a high profile suspect in its probe list to launch campaigns of calumny against the agency and some of its officials.
EFCC in the statement signed by its spokesperson, Femi Babafemi said: 'We again wish to alert the public to a fresh plan to launch all manner of attacks on the commission by persons we are presently investigating for corruption charges. These elements who are being coordinated and funded by a high profile suspect in a case of criminal conspiracy, diversion of public funds and money laundering we are currently investigating, were last weekend mobilised with ill-gotten funds to launch series of attacks against the commission and its leadership.
'These hirelings have been paid to stage appearances on popular television and radio stations' discussion programmes under the banner of some civil rights groups and under the guise of analysing the nation's anti-graft war. It is also part of their plan to author newspaper advertorials and articles, all for the sole aim of rubbishing the progress being made in the anti-graft war and ultimately weaken the morale of staff of the Commission.
'All these have been plotted to find an escape route for just one suspect who has enormous resources to pay groups and pseudo-activists to destabilize or distract a government agency working for the emergence of a better society.
'Members of the public are therefore urged to disregard jaundiced and self-serving statements that will be coming from these elements in the days ahead.
'Nigerians are encouraged to ask these hirelings their contributions to the nation's anti-graft campaign. EFCC has of today, recovered more than $11 billion, secured over 600 convictions with more than 1,500  cases including 65 high profile ones pending in courts. This is in addition to hundreds of real estates, vehicles and other assets the Commission has seized from suspects and accused persons.
'The Commission has since 2008, continued to advocate the establishment of special courts to handle the numerous corruption cases stalled in the regular courts.
'These elements have closed their eyes and minds to the progress made so far and the challenges at hand because there is no personal gain or pecuniary  benefits in joining such a crusade that will ultimately promote good governance for the betterment of our society which they pretentiously claim they defend in their activities.
'It is our belief that rather than promoting any self-serving agenda, it is time for all to heed the call of Preident Goodluck Jonathan who at his inauguration on May 29, declared that… 'The bane of corruption shall be met by the overwhelming force of our collective determination, to rid our nation of this scourge. The fight against corruption is a war in which we must all enlist. So that the limited resources of this nation will be used for the growth of our common- wealth.'