LIFELINE FOR A FORGOTTEN HERO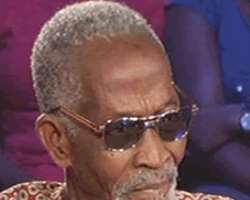 • Sam Ibiam
He spent his productive, youthful years serving the country. As Nigeria's first national goalkeeper, Pa Sam Ibiam dazzled millions with his wizardry on the field of play and brought immense honour to the country. But in his old age, he was abandoned and forsaken by the country, and the man known in his playing days as The Black Magic was left to endure untold agony in a modest bungalow at Unwana, a sleepy community in Afikpo, Ebonyi State.
Pa Ibiam's original home had been bombed during the civil war and it has since remained dilapidated. He lives in a small house attached to the bombed building.
Well, for the pioneer goaltender of Nigeria's first national soccer team, The Red Devils, some succour came recently, though from largely unexpected quarters. He was honoured on Who Deserves To Be A Millionaire? a special edition of the popular, MTN-sponsored television show, Who Wants To Be A Millionaire aired on many TV stations around the country.
Assisted on the programme by the duo of Azuh Arinze, editor of National Encomium, and popular actress, Stephanie Okereke, the 87-year-old sporting hero went home with a cheque for one million naira, a 5.5KV generator as well as a heart full of gratitude for MTN and for The Sun, Nigeria's highest selling newspaper.
'I will never forget MTN,' the elated Octogenarian told the reporter after the programme. 'I will never forget the man sent by MTN to me, Mr. Olu Akinlabi. And I will forever remain grateful to The Sun for bringing my plight to the attention of Nigerians. Without their efforts, this might not have happened.'
This reporter had briefly met with the Octogenarian in his home at Unwana in late 2009. On an editorial assignment in Ebonyi State, the reporter had visited the retired soccer star alongside Chief Jasper Okoro, editor-in-chief of National Patriot newspapers based in Abakaliki. The 10-minute encounter later resulted in a story entitled Pathetic: Nigeria's first goalkeeper lives in penury in Ebonyi village.
The story, published in the Daily Sun of Wednesday, January 27, 2010 partly reads:
Sam Ibiam. Ever heard of the name? He was Nigeria's first ever national goalkeeper, the man who manned the post for the UK Tourists, Nigeria's first national football team far back in the late 1940s. You might not have berthed on this planet when Pa Ibiam dazzled millions across the world with his magic hands. Nigeria did not even exist as a free country in those pre-independence days when Pa Ibiam and his fellow stars reigned in the hearts of football-loving folks from Kakawa to Kaduna, from Calabar to Kaura Namoda to the United Kingdom.
But soccer lovers and indeed, followers of the round leather game would have learnt of the incredible exploits performed on the soccer field by members of the then UK Tourists. Those were the days the likes of Teslim 'Thunder' Balogun, Dan Anyiam, Skipper Ewa Henshaw and other members of the team mesmerized with the ball before and shortly after the nation's independence in 1960.
Pa Ibiam was among the 18 Nigerian footballers who embarked on a tour of England in August 1949.?As expected, virtually all of the 'boys' of yesteryears have since passed on, and the only one remaining is now in the twilight of his days. Pa Ibiam is the last surviving member of that clan of sporting heroes. At 85, you'd expect this great-grandfather of Nigerian goaltenders to be living a comfortable life, nestled comfortably in a cosy house, reaping the fruits of his hard labour. You would have expected that the government he so faithfully served in his youthful years would come to his aid now that he is too old to work. But if you harbour such thoughts, you would be living in dreamland.
The bitter truth is that Pa Ibiam and many others who did the nation proud in their younger years have been cruelly abandoned to their fate by Nigeria at a time they can scarcely fend for themselves. Some are luckier though. While Thunder Balogun and Dan Anyiam have stadia named after them in their respective states of Lagos and Imo, Sam Ibiam has no structure bearing his name either in his native Ebonyi or anywhere in Nigeria.? Pa Ibiam, known in his playing days as The Cat or The Black Magnet, now lives in a modest bungalow in his hometown, Unwana in Afikpo, Ebonyi State.
After reading the Daily Sun story, Mr. Olu Akinlabi, Head, Corporate Affairs and Senior Project Manager with Ultima, producers of MTN's Who Wants To Be a Millionaire, contacted the reporter, asking to be linked up with the retired goalkeeper. Akinlabi subsequently travelled to Unwana and personally invited Pa Ibiam for the show.
The octogenarian and a few family members, including Chief Jasper Okoro, were flown to Lagos, fed and accommodated for two nights on the bill of MTN. A special edition of Who Deserves To Be a Millionaire was held for Pa Ibiam and a few other deserving heroes. Apart from the cheque and generating set, the Octogenarian also got a pack of souvenirs from Mr. Kunle Solaja, editor, Soccer Star. Solaja has also published several stories on the Black Magic.
The old man, who's still very agile physically and mentally, prayed God to reward his benefactors immensely, asserting that MTN has also done a lot for several national heroes. He recalled his playing days, noting that he became the first choice goalkeeper when the 18-man squad called the Red Devils undertook a soccer tour of Europe in the 1940s and 1950s. According to him, the Nigerian side played barefooted against the English footballers all of who wore iron boots.
The 18 players that embarked on a playing tour of the United kingdom in 1949 were Isiaka Shittu, Dan Anyiam, Sokari Dokubo, Gabriel Anosike, A.T.Ottun, Teslim 'Thunder' Balogun, Titus Okere, Etim Henshaw (Captain), Isaac Akinye, John Dankaro, Sam Ibiam (goalkeeper), Hope Lawson, Olisa Chukwura, Justin Onwudiwe, Peter 'Baby' Anieke, Ebenezer 'Salamo' Edet Ben, Messembe Otu and Okoronkwo Kanu.
After one of the matches played in Nigeria in the late 1950s, the then president, Dr. Nnamdi Azikiwe who was guest of honour at the stadium, invited the goalkeeper for a handshake. He retired from active football in 1962.