CORPS MEMBER AND EX-STAR QUEST LADY GIVES PUPILS FREE MUSIC LESSON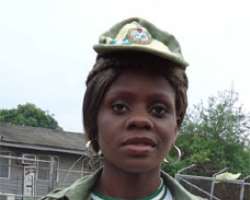 At a time when the National Youth Service Corps (NYSC) and, indeed, Nigerians are mourning some corps members, who were murdered, in the aftermath of the last presidential election, a talented Nigerian lady, who is also serving the nation, has offered her compatriots something to cheer. This female corps member has taken it upon herself to give school pupils free voice training.
Recently, at the Lagos State secretariat of the NYSC, in Surulere, was a beehive of activities, as Laura Etemah, Geology graduate from Delta State University, Abraka, professionally give pupils of five schools as well as other interested youngsters free voice training.
You maybe wondering what a Geology graduate is doing in music department. Laura has a passion for music and has developed herself. She is a singer, vocal coach and songwriter. She plays such music instruments as keyboard, lead box guitar, bass guitar and harmonica.
Laura told Saturday Sun that her journey into the music industry began at age eight, which led her to joining her church choir, from where she has moved on ever since to greater heights in music.
'As I grew older, I could sing to an appreciable level, but I wanted to learn the secrets of the stars because they did marvellous things with their voices. My desire to sing like a star led me from one music teacher to another, from one book to the other and I did a lot of research, to have an in-depth knowledge of singing. My learning experience led me to a range of things about the voice. I learnt the secrets behind getting through my vocal breaks, developing a balanced tone quality, singing without tension, extending my range and a lot more,' she said.
On why she organised the free voice training, Laura, who's also an actress and model, said: 'I noticed that a lot of youths are interested in music and they usually run to me to help them out. Seeing this need, I decided to do a workshop, a kind of contributing my quota to the system. It is my personal community development project. I am also donating my book, Sing Like a Super Star aside exercise books and other materials.'
Interestingly, Laura has always been in the news, as far as music is concerned. In 2006, she took part in a national reality TV show, Star Quest, organised by the Nigerian Breweries Plc. Her versatility with musical instruments brought her band, D'accord, to the spotlight. Thereafter, the band went for a 10-city tour Mega Jam in the same year, alongside American hip-hop superstar, Akon and LL. Cool J. The band was also in London with 2Face Idibia, P-Square, Tony Tetuilla and The Natives.
The indigene of Ebu, in Oshimili North Local Government Area of Delta State, who has also recorded an album for the NYSC, slated for launch on May 21, revealed why she studied Geology and not music.
'From the onset, I love music, but my parents wanted me to study a professional course. That was how I ended up studying Geology.'
To avoid such thing happening to other kids, she said: 'Our parents should allow us to choose our own profession. If you are playing music and keyboard, it makes one intelligent. Music is my life and passion. I love teaching music. Everyone has a passion. I keep telling people never to give up in their passion. They should hold on to their dreams and go to the right places.'
On what she has been doing, Laura said she had worked in recording studios as a back up singer. Also, she performs in special occasions, like weddings, birthday parties as well as teaches music aside being a music producer, who has recorded choirs and solo artistes. In addition, she produces sound tracks for Nigerian home movies and jingles.
In the voice training, Femi Ogedengbe, a member of the NYSC band, while teaching the pupils some songs, also admonished them on the impact of music.
He said: 'I actually started music at the tender age of 13 and since then I have not looked back. Music is meant for intelligent people. Music is a way of passing messages and we are currently producing a generation of singers that can deliver positive messages through music. You can change the world with your songs. Through your songs lives could be affected.'
Joe Francis, a graduate of Electronics Engineering from University of Uyo, did a good job as the compere. Francis, who is the CEO of Good2go media, is a radio presenter on Eko FM. Resource persons from MUSON Centre also contributed their input to the event.