FLIPSIDE OF THE GOVERNORSHIP POLL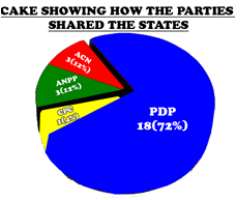 The just concluded governorship elections in the country represents a clear index of the foibles in the nation's electoral and party system. The reason is not far fetched. As a local election, which also touches the people closest in the series, it is designed to bring out the best and worst. This vortex inevitably confers on it the quality of desperation and fierceness, and indeed, the most contentious.
This was clearly evident in the 26 states of the federation, where the election held. A distinctive appraisal of the electoral administration exhumed its other side and registered deep marks of psycho-sociological nature. In the national Assembly Poll which kick-started the exercise, the dominant parties showed traces of their areas of strength.
This pattern of voting was however upturned in the presidential election, where it was established that voting choices or preferences were dictated by the individual contestants. Thus, in the Muslim North, General Muhammadu Buhari (Rtd) of the Congress for Progressive Change(CPC) nearly recorded a clean sweep, while in the Christian South, and the Christian states in the North, President Goodluck Jonathan of the Peoples Democratic Party, PDP, cleared the votes.
But in the governorship poll, the system changed. Incumbency factor and the individual candidates' acceptance by the electorate played up, leading to massive victories by PDP governors, except in a few states. Chief Robert Clark (SAN) describes the phenomenon as 'normal in Nigeria's electoral history. The exception in the unwritten rule occurred in Kano, Zamfara, Oyo and Imo.
The poll also highlighted a number of issues that may affect the general perception of the exercise and bifurcate the existing standards. These include the drubbing of the CPC in the North, which invariably diminished Buhari's popularity and status claims in the presidential elections. Indeed, this confers on him a growing insignificant profile in the general appreciation of the polls. Presidential aide on strategy and documentation agrees. 'It is an emphatic form of forced retirement'. Others include:
• Diminishing influence of godfathers
• Above 70% acceptance of results
• Re-emergence of the Action Congress of Nigeria(ACN), in the South-West
• A growing discerning and perceptive voting populace
• Re-establishment of the PDP as the dominant party in Nigeria.
HEROES
Hon. Dimeji Bakole (speaker, House of Representatives) - for blazing the trail in the evolving culture of sportsmanship in defeat which others in the guber poll emulated.
Mr. Babatunde Fashola - for recognition and dedication of his victory to slain National Youth Service Corps Members
Senator Ahmed Yerima - for staging a coup de grace that brought down from power his recalatrant godson. Governor Mahmud Shinkafi of Zamfara State.
•President Goodluck Jonathan - for a refreshing indifference and non-interference in the guber poll.
VILLAINS
• Under age voters - for breaching the 1999 constitution and the 2010 electoral act.
• CPC supporters - for bursting loose and spilling blood.
• INEC officials - for complicity in indecent fraud.
• Vice president - for serially losing his unit and ward.
• Security agents - for involvement in irregularities and ballot box snatching
RELEGATED
• Chief Edwin Clark
• Dr. Olusola Saraki
• Chief Olabode George
• General Muhammadu Buhari
• Dr. Chimaroke Nnamani