HUMBLES BUHARI, RIBADU IN EKITI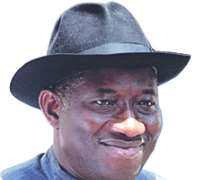 Dr. Goodluck Jonathan, polled 135, 009 votes to trounce Mallam Nuhu Ribadu and Mohammadu Buhari in Ekiti State.
While Ribadu, polled 116,981 in the ACN-controlled state, while former military Head of State, Buhari got 2,689 votes.
ANPP and ADC took fourth and fifth positions respectively with 1,482 and 1,314 apiece.
The minister of God from the Household of God, who is the presidential candidate of Fresh Party, Pastor Chris Okotie polled 52 valid votes to retain last position.
The results were announced by the INEC Chief collation officer in the state, Prof. Chinedu Nebo.