APRIL POLLS: NORTHERN PDP GOVS WON'T RETURN -MAGAJI, LP GUBER CANDIDATE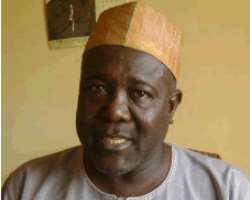 Kaduna State governorship candidate of the Labour Party (LP), Bello Mohammed Magaji, has said that most northern governors seeking re-election do not stand a chance going by their support against PDP zoning arrangement. He made this known in an interview Daily Sun in Kaduna, Kaduna State. Excerpts:
Why do you want to become governor of Kaduna State?
The motivation I have is that workers through the instrumentality of the Labour Party should access power to better the lots of the workers. If the lots of the workers are bettered then of course society will be better.
Take for instance in Ondo State, where Labour Party is in power, recently two legislations were passed and were in the interest of workers. It is only in the labour controlled state that these things happen.
In Kaduna and some other states, these things do not happen. If you compare what workers will gain in a party that is run by labour and the one that is run by another group that does not have the ideology of labour definitely you will discover that the workers will have a better bargain in the Labour Party.
Reviving collapsed textile industries in Kaduna
When I made up my mind to join the race and wrest power from the present PDP controlled administration, I have articulated views especially as a privileged member of the NLC who had been in meetings where we were able to articulate the problems that had be-devilled the textiles industry. We feel that one of the major actions we ought to take was to re-open textile industry. My first plan is to articulate in a blue print, which I had already worked out in collaboration with NLC and other stakeholders within the wider labour movement on how to re-open all the textile industries.
Assessment of Governor Patrick Ibrahim Yakowa
If I were to rate him I would score him average. In terms of security I score average and in terms of trying to carry people along we could say yes but in terms of infrastructure, agriculture, health and education these are the areas we rate the administration below average. No security situation could be absolute and the fact that two police officers were killed in a cosmopolitan environment like Kaduna might be an isolated case.
We cannot use that to judge the security arrangement of a state like Kaduna. In security, we look at overall breaches that are so major and are consistent then we will say that there are security breaches. In as much as I sympathize with the victims I still fill that it did not degenerate to the extent that we will say security is below average.
Religious and ethnic sentiments in today's politics
If our informal interactions are anything to go by, religion cannot be divested from the voting pattern, it will happen. I am not taking sides. I am just saying it that you cannot divest it and it is definitely going to play a role in the election.
The PDP zoning controversy
The PDP disappointed me from the word go. Again as a lawyer, I have gone through the provisions of the PDP putting the background of constitutional requirement and other relevant conventions and so on. As such, such arrangement, which I do not find strange, should have been upheld. I felt the simple thing was for the PDP to have abided by zoning arrangement, which would have gone a long way in giving PDP credibility.
The failure to abide by it is what is putting me off. I feel if people could make such arrangement and at the tail end they sidetracked it, it means even at governance level it could happen. People will use situations at their own advantage. It is unfortunate and I do not think it puts PDP in a good light.
Northern governors who supported President Goodluck Jonathan at the PDP primaries?
Yes, in as much as I am a member of the Labour Party I do not have to talk about dichotomy, but sometimes the truth ought to be told. Each region has some basic level of cohesion. If it would be in the interest of moving with the cohesion in the sense that for any reason if their general interest is at stake, they come together and protect it.
Individual interest can be maneuvered but in such a situation, you can consider it as a betrayal. Bluntly speaking the interest of the North is in jeopardy. The least we expect our governors to do is to come together and solidly stand by the cohesion of the North. That would have gone a long way to help their reputation that is at stake now. For them to have done otherwise, you will see the result in the forthcoming election.
Are you saying most northern governors seeking re-election do not stand a chance going by their position on zoning?
Of course, yes. I know that based on the interaction we are having, a lot of people are pissed off by their action. Again, majority of people are saying that it would affect the chances of these governors.
As for Jonathan, I do not agree that he will emerge victorious. Of course, the Electoral Act is such that if he does not win in the first leg, we have another opportunity for a run-off. I do not see him emerging at the first run but I do not know what will happen in the run-off. Going by the current happenings in the political scene in some countries, in the run offs, is when strategizing takes place and what you don't expect happens.
Justices Katsina-Alu/Salami controversy
Having been at the Bar for more than 20 years, I have never contemplated that such a thing would happen. I felt so disappointed, so bad about the drama that is playing itself. It is most unfortunate and it will go along way even to non-lawyers to put a dark spot in the judiciary. I just felt that no matter the outcome of the ongoing investigation of the two apex judicial officers, a dark cloud has already been cast on the judiciary.
I was expecting that immediately such allegations come, they do not need to be told to resign. I was thinking they should have resigned. There are certain acts that had happened involving some politicians and some other top government officer who shamefully refused to leave office. I was thinking our judiciary ought to have been above that. The two apex judicial officers should resign to save the judiciary a great deal of horror.