Images: Tinted Glass Window Enforcement: Police Nab Jim Iyke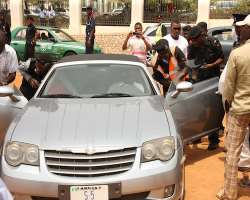 POLICE DETAIN NOLYWOOD STAR JIM IYKE TO ENFORCE THE BAN ON TINTED WINDOWS AND GLASSES IN VEHICLES IN ABUJA TODAY, MARCH 09, 2011.
ABUJA, March 09, (THEWILL) – The Police in Abuja on Wednesday afternoon briefly detained popular Nollywood star, Mr. James Ikechukwu Esomugha also known as Jim lyke and forcefully removed the dark tints on his car windows as part of its enforcement of the new law banning motorists from using tinted windows.
The Minister of Police Affairs, Mr. Humphrey Abah, THEWILL gathered had issued a directive to the Police Command to enforce to the provisions of the Prohibition of Tinted Glass Act, 1999.
"Chapter M21 Laws of the Federal Government of Nigeria Motor Vehicles (Prohibition of Tinted Glass) Act is still in operation and it is this law that we want to begin to enforce. We want to enforce this law strictly without sentiments.
"So, I want to use this opportunity to announce to all Nigerians that beginning from Monday, February 28 of this year, the use of tinted glass by all classes of our citizens remains prohibited.
"Unauthorized use of siren will attract severe sanction as such vehicles will be confiscated. Owners of vehicles with foreign numbers have two weeks to register them or remove them from the road," Mr. Abah had warned.
The Minister also revoked all licenses earlier issued for tinted windows.
Jim Iyke was driving a Chrysler Crossfire convertible when he was pulled over.
The Nigerian Police Force had warned that only a handful of top elected government officials could use tinted dark windows. Those approved to use them include the President, Vice President, Senate President, Deputy Senate President, Speaker of the House, House Leader, Senate Leader, Governors and Deputy Governors.
Reports say policemen have started enforcing the law by detaining vehicles with tints irrespective of the class their owners may belong in the society.
About a month ago, it issued a countrywide deadline for those with tinted glass in their vehicles to remove them by February 28 2011 or have the police do so on their behalf.
Only vehicles with factory tints got an exemption.