SIASIA, EGUAVOEN, OBUH CRIPPLE HEARTLAND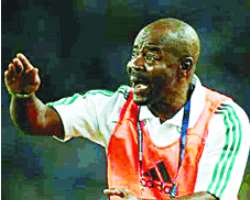 • Obuh
No fewer than 14 players of Heartland FC of Owerri are currently in the various camps of the national teams, leaving Coach Christian Chukwu with no option than to call for a shift of this weekend's Oriental derby between Enugu Rangers International and Heartland of Owerri billed for the Nnamdi Azikiwe Stadium in the Coal City of Enugu.
Team Manager of Heartland, Promise Nwachukwu, who confirmed the postponement of the titanic clash in a telephone chat with League Unlimited, explained that his team could not afford to prosecute such a high-profile fixture with a massively depleted squad.
'Our team has been completely depleted with virtually all our first team players and the reserves away on national duties.
'We would have gone ahead to play the match against Rangers even with about six of our players in the Super Eagles' camp and four in the Flying Eagles' squad to the Africa Youth Championship in Libya,' the former player of the defunct ACB of Lagos said. 'But with the latest call up of four other players to the national Under-23 team, we now have a total of 14 players in the camps of the various national teams and there's no way we can play a high-profile game, such as the match against Rangers, with 14 of our key players out of our squad. We had no option than to ask for a postponement of the fixture,' Nwachukwu explained.
Acting Secretary of the Nigeria Premier League (NPL), Tunji Babalola, had earlier confirmed Heartland's request to have the fixture shifted, just as he admitted that the league statutes stipulated that any team that has five or more of its players in the national team, reserves the right to request for the postponement of its matches.
Heartland has six of its players in the Samson Siasia-tutored Super Eagles' team to the United States for an invitational tournament – the Obama Cup. The players include, Chibuzo Okonkwo, Gege Soriola, Ikechukwu Ibenegbu, Julius Ubido, Osas Okoro and Bassey Akpan.
Four of the team's players are already in Libya with the country's Under-20 team, the Flying Eagles handled by Coach John Obuh. These include, Orji Kalu, Obinna Nwachukwu, Morris Enete and Chinedu Ude.
Meanwhile, on Monday, the national Under-23 coach, Austin Eguaveon, called up yet another four players from Heartland to be part of his squad. They include, Bello Kofarmata, Michael Babatunde, Joshua Obaje and Samuel Chukwudi.
Heartland's General Manager, Fan Nduboke, noted that the team's match against Rangers, as well as other matches that are too crucial for the club, would not be prosecuted with a half-strength squad.