HOPE RISES FOR GALADIMA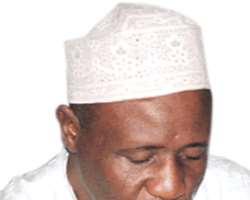 Galadima
The chances of Alhaji Ibrahim Galadima making it to the Confederation of African Football (CAF) executive committee brightened yesterday, courtesy of Dr Amos Adamu's decision to withdraw his appeal at the Court of Arbitration for Sports (CAS).
CAF, on Friday, told Nigerian officials in Khartoun, Sudan for the elections that Galadima's candidacy won't be recognised since Adamu is still forging ahead with his appeal.
An impeccable source yesterday told Daily Sunsports that Adamu had, however, withdrew his appeal, thus clearing the coast for Galadima. Hayatou , a close ally of Adamu, had insisted on Galadima not running since Adamu could possibly win his appeal at CAS.
Hayatou, who acknowledged the important position Nigeria occupies in African football told Adedoja that legally speaking, Adamu's appeal means that his seat on the CAF executive committee is not vacant and as such there cannot be a replacement for him.
Adamu's tenure on the CAF exco will only run out by 2013, officials said
'It could be that CAF is trying to give Adamu all the cover he could get because he is heavily entrenched there,' a disappointed sports ministry official offered. It was learnt that Adedoja frantically tried to persuade Adamu to withdraw his case from CAS, so that Nigeria would not lose the position, but this was to no avail.
'The minister told Adamu that he should first and foremost consider Nigeria in this respect and that it would be better if he withdrew his appeal at CAS, so that Nigeria will not be the big loser at the end of the day,' a source informed.