TRANSFER OF YOBO, AIYEGBENI: EVERTON'S FANS ATTACK MOYES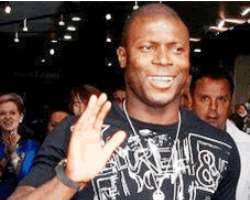 Aiyegbeni
Fans of the English Premier League side, Everton, have launched serious attack against David Moyes over the recent transfer of Super Eagles' skipper, Joseph Yobo and striker,Yakubu Aiyegbeni.
Apart from the departure of the two Nigerians, they also expressed dissatisfaction over transfer of James Vaughan, and the sale to Tottenham of Steven Pienaar, with no players coming in during January.
But Everton's chief executive, Robert Elstone, said that the loan deals had 'the blessing of the manager'. Sources close to Yobo suggested the 30-year-old did not want to return to Goodison, having been loaned to Fenerbahce.
Elstone also said Everton had 'worked incredibly hard, for almost two years, to keep Pienaar, offering a lucrative new contract that in the end was rejected'. Fans demand that the club's chairman, Bill Kenwright, reveal his asking price for the club, though that is hardly the way to sell any asset. Kenwright has said that he wants to sell and with the level of support holding up so well - average attendances for Premier League games at Goodison Park increased from 35,667 to 36,729 and season ticket numbers increased by 8 per cent from 23,717 to 25,671 - it is hard to believe that a new stadium would not have enticed a new proprietor.
'The simple facts are (that) approaching 85p in every £1 we bring in ends up, one way or another, at our (Finch Farm) training ground,' Elstone said. 'From young prospects, to scouts, to medical support, to coaches and, of course, to our first team squad, almost £70m, out of our £80m of income ends up (there.)'
But with Arteta and Baines the subject of interest from Arsenal and Bayern Munich respectively, that £70m may not be enough.
Moyes joked two weeks ago that even Crawley Town had outspent him in January - which they had - and with the relegation-haunted sides of the Premier League displaying far more inclination to spend, Everton needs a considerably richer Russian than Bilyaletdinov to arrive at the door in a hurry.
Meanwhile, Moyes' uphill battle to compete at the top end of the Premier League was revealed yesterday in annual results which showed Everton is spending nearly 70 per cent of its income on wages and running at a £3.1m loss despite maintaining near record turnover.
Moyes said earlier this month that he feared key players may depart if they cannot be convinced that the club has ambition and, though Elstone delivered a strong riposte to those who have perpetuated rumours that the marginally delayed publication of the accounts has put the club at risk of administration, the figures do reveal the club's struggle to keep up with Premier League spending elsewhere.
A wage bill up to £54.3m - 69 per cent of turnover - and continued investment in players have contributed to the level of debt at the club rising from £41m in 2009 to £48m. Though Elstone argues that the Everton side that beat Blackpool on Saturday constituted 'an enviable team sheet', Moyes has been able to spend only what he has raised for the past three years.
The £21m investment in Sylvain Distin, Diniyar Bilyaletdinov and John Heitinga in 2009 followed Manchester City's £22m purchase of Joleon Lescott, while last year Moyes spent what money was available on securing Mikel Arteta, leighton Baines, Tim Cahill and Jack Rodwell on new long-term contracts. The accounts revealed that the sale of the club's Bellefield training ground was used to pay off previous loans, while turnover remained static in the year to May 2010: down £600,000 to £79.1m, with the absence of the previous year's Cup run a contributory factory.
Everton's problem is a fundamental one: as Elstone put it, 'the billionaire is yet to knock on the front door at Goodison'. The decision of a government inquiry to refuse plans which would have seen Everton relocate to an out-of-town stadium at Kirkby have proved as gravely significant as Everton always feared. It prevented them from developing a facility-led development model, which would have radically increased match-day revenues to help meet wage and transfer market demands. Everton takes £600,000 on a match day; Arsenal pocket £3m.