INEC Recognizes Obasanjo's Faction; Bars 20 Parties From Poll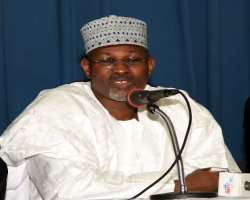 ELECTORAL COMMISSION CHAIRMAN PROFESSOR ATTAHIRU JEGA.
SAN FRANCISCO, Jan 01, (THEWILL) – The intrigues associated with Nigerian politics continued today as the Independent National Electoral Commission (INEC) overruled the Peoples Democratic Party (PDP) with the recognition of candidates that emerged in the primary conducted by a faction of the PDP in Ogun State loyal to former President Chief Olusegun Obasanjo.
The Obasanjo faction which is led by Jubril Martins-Kuye, the Minister of Commerce, had held its congress at the Obasanjo Library where former ECOMOG commander, General Tunji Olorin emerged as Governorship candidate and Dr. Iyabo Obasanjo-Bello emerged as a Ogun Central Senatorial District candidate, while Chief Tunde Fadun emerged as Senatorial candidate for Ogun West.
Recall that the national headquarters of the Peoples Democratic Party (PDP) had given backing to the primaries conducted by the faction of the party loyal to Ogun State Governor Gbenga Daniel and subsequently forwarded the names of the candidates that emerged from it to INEC.
The candidates that emerged from the Daniel faction are: Mr. Gboyega Nasir Isiaka (Governorship candidate); Honourable Lola Abiola-Edewor (Senate candidate, Ogun Central Senatorial District); Mr. Waliu Taiwo (Senate candidate, Ogun West Senatorial District); and Governor Gbenga Daniel (Senate candidate for Ogun East).
Explaining INEC's decision on the Ogun State, the commission cited a court order, which barred it from accepting candidates that emerged from the primaries conducted by the Chief Joju Fadairo faction, which enjoys the support of Gbenga Daniel.
INEC's Director of Public Affairs, Mr. Emmanuel Umenger told journalists at the electoral commission's headquarters that, "In the interim there is a court order which we have to obey and that is why we are giving recognition to the nominations of the Ogun PDP faction which produced General Olurin and others.
"We are a law-abiding body, we have to obey the order. If there is an appeal over the matter and the court rules otherwise, INEC will have no option, but to reverse it as a law-abiding body set up by an Act of parliament," Umenger stated.
The Director also commented on developments in Anambra and Enugu State. He told journalists that the commission was compelled by a court order to also recognize the Mr. Benjamin Udeazor faction of the PDP in Anambra State, while he said the commission was yet to be served any ruling barring it from giving recognition to Governor Sullivan Chime as the PDP's Governorship candidate.
Meantime, THEWILL gathered that the electoral commission has wielded its big stick and disqualified 20 political parties from participating in the April poll after it rejected their lists of candidates because they failed to meet the commission's deadline.
Only 43 political parties out of the 63 registered made the January 31, 2011 6.pm deadline to submit their lists of candidates for the polls.
The successful parties are:
Accord (A); Action Congress of Nigeria (ACN), Allied Congress Party of Nigeria (ACPN), Alliance for Democracy (AD), African Liberation Party (ALP), All Nigeria Peoples Party (ANPP), All Progressives Grand Alliance (APGA), Action Party of Nigeria (APN), Africa Political System (APS), African Renaissance Party (ARP), Better Nigeria Progressive Party (BNPP), Change Advocacy Party (CAP), Congress for Democratic Change (CDC), Congress for Progressives Change (CPC), Community Party of Nigeria (CPN), Citizens Popular Party (CPP), Democratic Peoples Alliance (DPA), Fresh Democratic Party (FRESH) (only presidential candidate), Hope Democratic Party (HDP), Kowa Party (KOWA), Labour Party (LP), Movement for Democracy and Justice (MDJ).
Others are include: Mega Progressive Peoples Party (MPPP), Movement for the Restoration and Defence of Democracy (MRDD), National Conscience Party (NCP), New Nigeria Peoples Party (NNPP), National Reformation Party (NRP), National Solidarity Democratic Party (NSDP), National Transformation Party (NTP), Peoples for Democratic Change (PDC), Peoples Democratic Party (PDP), Peoples Mandate Party (PMP), Progressive Peoples Alliance (PPA), Peoples Party of Nigeria (PPN), Peoples Progressive Party (PPP), Peoples Redemption Party (PRP), Peoples Salvation Party (PSP), Republican Party of Nigeria (RPN), Social Democratic Mega Party (SDMP), United Democratic Party (UDP), United National Party for Development (UNPD) and United Nigeria Peoples Party (UNPP).
The following parties were barred:
Action Alliance (AC), Advanced Congress of Democrats (ACD), African Democratic Congress (ADC), Democratic Alternative (DA), Democratic Front for Peoples Federation (DFPF), Democratic Peoples Party (DPP), Freedom Party of Nigeria (FPN), Justice Party (JP), Masses Movement of Nigeria (MMN), National Action Council (NAC), Nigeria Advanced Party (NAP), New Democrats (ND), National Democratic Liberation Party (NDLP), National Democratic Party (NDP), Nigeria Elements Progressive Party (NEPP), National Majority Democratic Party (NMDP), Nigeria Peoples Congress (NPC), National Unity Party (NUP) and Progressive Action Congress (PAC).