PDP PRESIDENITIAL PRIMARY: Why I supported Atiku -Shiluwa, Benue chieftain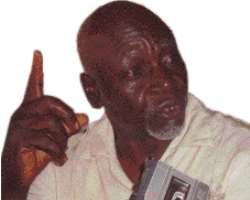 My support for Atiku is total
Shiluwa seems to be swimming against the tide for while other elites in the state are supporting the presidential ambition of president Goodluck Jonathan, his thumb was up for former Vice President Atiku Abubakar. Would it be right to call him a rebel? The question was put to him.
Here is his answer. 'If you want to call me a rebel, I will tell you that I was exercising my fundamental human rights to choose. If you decide to call me a rebel because I had chosen whoever I wanted to choose, then everybody in Nigeria is a rebel. Everybody has a choice to make. You might as well call those who have chosen to work for Jonathan rebels because they have no good reason to work for Jonathan. I have a better reason why I should be worked for Atiku and a better reason why I should not work for Jonathan.'
 
My people have made the wrong choice
Throughout the almost one hour interview session, the Sima One U-Tiv held his interviewers spellbound with verbal acrobatics. As Shiluwa went on to demolish the reasons behind his people's support for President Goodluck Jonathan, he sounded angry. As he explains, the wrinkles on his forehead formed. The furrow became pronounced as he gets deeper into the subject matter. He expressed disappointment at his people who cannot understand his reasons for supporting Atiku.
Shiluwa who said he has contested the governorship election of Benue State four times and lost all the contests was asked to state concretely Atiku's achievements to warrant his support.  'I have given you the reason why I will not go for Jonathan. Let me tell you why I went for Atiku before you ask me whether Atiku has done that or not. I have known Atiku for the past 23 years. For these 23 years, we have been doing politics together. So, I know him. Take my name to Atiku, he knows who Shiluwa is, but take the same name to Jonathan, he would be wondering who Shiluwa is. Atiku will not do that.
He knows the kind of politics I have been playing. Jonathan doesn't know. The second point is: who is a politician among the contestants? We want an experienced person. Since Atiku left the Customs, he has been in politics for these 23 years that I have known him. Atiku contested the governorship of Adamawa with Bala Takaya during the SDP days. Atiku was also a co-ordinator for Musa Shehu Yar'Adua in Adamawa while I was the co-ordinator here. So we were always meeting. He was contesting for governorship there and I was contesting for governorship here.
He won the primaries, Babangida cancelled it. He ordered a repeat of the primaries. Atiku won again. Babangida decided to cancel it and then disqualified the two of them. He gave up. We formed the SDP. Eventually, Babangida cancelled the primaries twice even when he had been given the certificate. He disqualified Yar'Adua. Then we went to Jos for the primaries. Atiku was called in to contest for the presidency. So what I am saying is that this is not the first time Atiku is contesting for the presidency. He contested along with Chief Abiola and Kingibe, he came third.
Then we sat in Jos and asked him to back Abiola so that he can pick him as the vice president. In the end he was disappointed. Abiola decided to pick Kingibe. Yet we worked for Abiola; the whole PDM. I was part of this. We worked for Abiola. He was forced also to enter into UNCP by Abacha. After Abacha, the five fingers of the same leprous hand had been dissolved by Abdulsalam who took over from Abacha. We formed the PDP. Atiku was a pillar.
He was the founder of the PDP. Atiku hired the National Secretariat of the PDP and paid for it. I was one of the five persons that went to Otta to beg Obasanjo to come and contest. Atiku went and contested the governorship of Adamawa. He won.'
 Apart from the political qualifications of Atiku which he thought should have endeared the former Vice president to his people, Shiluwa was disillusioned by what he regarded as the people's abandonment of a man they gave one of the highest titles in Tivland, Zeghe-Mule-U-Tiv.
 
Jonathan has done nothing for the Benue and North Central
Such is the outspokenness of Shiluwa. But would he say that the president has not performed? This is a question that electrified Shiluwa, but first he explained that, 'I am in Benue,' and went on to make his assessment. 'I have not seen anything here. I have not seen what Jonathan has done to the Benue State and North Central people. Jonathan is only concentrating in the south-south. Billions of naira road contracts were signed recently in the south-south area.
Since he resumed, he has constituted so many committees. How many Benue people are in those committees? I am a Tiv man. If you look at his campaign by saying that a clique sat and endorsed Atiku and some people will say the most populous tribe in the North Central is the Tiv, they were not there. Yes, they were not there. At the same time they are telling us that the Tivs that are the most populous are not in Jonathan's government.
So, Jonathan's government is also useless. Who in North Central is in Jonathan's government from ministerial and advisory levels to all the commissions? So the fact that we have an Idoma man who was there and you go into the campaign to say because there was no Tiv man who are the most populous, you are defeating yourself. In your government, you constituted the ministerial team; there is no Tiv man there.
You constituted the Advisory Committee with Lt. General TY Danjuma as leader, there is no Tiv man there out of over 32 people. Yet you know that the Tiv is the fourth most populous tribe in Nigeria. The Tivs are not minority. If you have 300 tribes and you are ranked number four, how can you say you are a minority tribe?'
 
PDM members in PDP returned Atiku to PDP
In answering the question, Shiluwa chose to play a see-saw game with his interviewers by throwing the question back. He wanted to know who formed ACN. 'Who formed ACN? He asked. But he answered the question himself. 'I thought you knew. It is Bola Tinubu. It wasn't ACN. They changed the name. Tinubu is in charge.
Atiku merely joined because he was deregistered from the PDP. He was deregistered completely.' Why did he leave AC again? You ask. 'I must come home now. Home is home. We didn't follow him to AC. Most of his supporters were still in PDP when he was deregistered. It was we, his supporters in PDP that begged him and asked him to come back. If you do not know, I am telling you today that I am one of the architects that said Atiku must come back to PDP. We members of the PDM asked Atiku to come back to PDP. If you know members of the PDM, those were the people who asked him to come back. Some of us, majority of us, didn't go with him.
And we are the people who told Atiku to come back. When he was to come back, there was this arrangement that he should not be registered at all. Even when he was to contest there was an arrangement that Adamawa should denounce him; he should not get a waiver. But he sailed through all these. I was a member of NEC when the decision to grant him waiver was raised. I know those who opposed the idea of a waiver for Atiku when we have given waivers to the Abia State governor and all the House of Assembly members. Could Nwodo have been Chairman of the PDP if he was not given a waiver?
You know Nwodo too went to ANPP and then to AC. Why did they try to deny Atiku a legitimate right to come back to his home? Anyway, he came. If you look at the campaign that is going on, Atiku is the only person giving Nigerians the economic indices of this country. What were his achievements? Of course, I cannot tell you his achievements while he was with Obasanjo because he was a Vice President. As for his political achievements, you know he built SDP, PDP and he has built a bridge across. He was tutored by late Shehu Musa Yar'Adua. Anybody who was tutored by Shehu Musa Yar'Adua, you can't beat him in politics.'
 
Minority in government will not favour minorities
Shiluwa believes that his people have not taken time to study the mathematics of minorities in politics before embracing President Goodluck Jonathan. He explained: 'I have studied the minority politics in this country and I am saying minorities never look for minorities. When minorities are in power they look for majority to consolidate their position, believing if they mess up, the majority will kick them out.
Most of the appointments Jonathan has made are from the majority. They are not from the minority tribes. If he has picked from the minority, it is from his side. Otherwise, how can Jonathan pick his Vice President from Kaduna and his Campaign Director General from the same Kaduna? Why didn't he pick his Campaign DG from Benue or the Middle Belt?'
 
It is stupid for anybody to say Atiku is the consensus aspirant of the North
Of recent, there have been criticisms of Atiku being the northern aspirant. Shiluwa is not happy with the people's understanding of the consensus status of the former Vice President as the consensus aspirant of the North. He quarreled with the radical views expressed by some Nigerians who, he said, should have known better. To put the word consensus in its right perspective, Shiluwa said he regards Atiku as a Nigerian aspirant. 'Atiku is a Nigerian aspiring to become Nigeria's president,' he remarked.
The word northern presidential aspirant, he said, is not correct. 'It is the Press that are making it look like that.' He explained: 'The issue was four people were going to contest from the north. They called the elders and said look, four of us going in for this will not help us. Since the presidency is zoned to the north and Jonathan is insisting in contesting, can you mediate? They did. Out of the four, they picked one person. It is the consensus among the four.
It is not consensus of Nigeria. It is not the consensus of the people of the north because other northerners are contesting in other political parties. Why should we regard Atiku as a consensus candidate of the north when you have Shekarau and Buhari contesting? It is stupid for anybody to say Atiku is the consensus aspirant of the north. Among the four aspirants, three said we have given up. We will support you. Atiku is the northern aspirant within PDP.
If it was northern aspirant, then Buhari would have been there. Shekarau would have been there. I am saying referring to Atiku as northern aspirant is wrong. It is completely wrong. Atiku was contesting on the platform of PDP and he needed the southern votes, western votes, the eastern votes as well as northern votes. Atiku was not a northern aspirant. He was a Nigerian aspirant. Who picked Jonathan? It's South-South. So who endorsed Jonathan? Is it by the West or South-South?