TGIF My life as actress, producer-Obokia, Miss Delta 2007 Nollywood star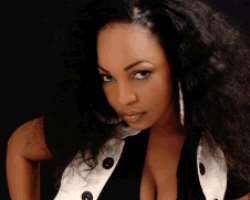 Obokia
Elo Obokia was not intimidated the first time she acted alongside notable names in Nollywood in her early days as an actress. Her passion for acting gave her the courage not to be intimidated by their presence. As a child, she had wanted to be an entertainer, so her career in the make -believe world clearly reveals she is living her dream.
The Most Beautiful Girl in Delta State in 2007 and movie producer reveals she loves to keep male and female friends alike provided they are trustworthy. The newly-engaged fair skinned actress shared her New Year plans with Daily Sun and what she would do if her husband demands she quit her cherished career. Excerpts:
What is your New Year resolution?
First of all, I am grateful to God Almighty and saying a big thank you to Him for making me cross over into this wonderful year. My resolution for the year is to be more prayerful and focused in orderto achieve my goals.
What do you wish to do differently in 2011 compared to last year?
Though 2010 was a good one, I intend to be more determined and focused in every aspect of my life this year. This new decade is not a time to joke or lazy about. It is a time for reflection and great aspirations.
What personal experiences did you learn from last year?
Last year was good for me, but I have learnt to be more focused and determined in life. Because that is the only thing that would make me achieve my goals in this new year.
You have been in the industry for sometime now, what is your experience?
For me acting is something I enjoy doing. I feel fulfilled doing it but there are ups and down in it. Acting has changed my life positively, the experience has been good anyway. It has added good things to my life as an individual and I don't regret my acting career at all.
You act and also produce, how challenging is that?
Acting and producing are two different things entirely. Acting for me is less challenging compared to producing because being a producer demands a lot of responsibilities, in the sense that you want to meet up with your target. As a producer, you are required to make your cast and crew confident and relaxed. You want to satisfy and urge them to give their best. Now combining both is not an easy task at all, but since I have made up my mind about both, I cope very well.
How many movies did you produce last year?
So far, I have produced four movies. Bloody Ring, Tears of a prince, Sin no more and the last one is not yet out.
How do you hope to emerge a better actress this year?
That is my secret. But I pray God gives me the strength and ability to emerge a better actress this 2011.
As an actress, what puts you off?
Things that can put me off on set are not much. When you are on set,† you see different categories of people and they all have different characters. Sometimes, you see people that will make you laugh, some will annoy you and it goes on and on. Some people's character put me off.
What can't you do in the name of acting?
Although I have a burning passion for my career, I cannot, I repeat cannot pose nude. Not for millions or any other reason.
How did acting start for you?
I have passion for acting. Right from my childhood, I had always wanted to be an entertainer. I love to put smiles on people's faces. Over time, I developed interest in our home videos and started watching them. What really triggered off the spark eventually was when I watched a movie that starred Rita Dominic. That movie inspired me the more.
You are also a model, how did modeling begin for you?
Modeling for me started like a child's play. But in 2007, I decided to give it a try with determination I was able to make something out of it.
What have you achieved as a model?
My main achievement as a model was in 2007 when I was crowned the Most Beautiful Girl in Delta State in 2007.
After you were crowned most beautiful girl in Delta State in 2007, how did you live up to the expectations of the people?
Well, it wasn't easy. I was able to work on my pet project which was on women empowerment and HIV AIDS awareness campaign. Also, I made sure I touched some lives by visiting some orphanage homes and some hospitals with gift items.
What were your duties then and how did you achieve them?
Then my duty was carrying out my pet project and also educating the youths on their responsibilities to their nation and also make them see themselves as the future leaders of our country. Financially it wasn't really easy for me,it was very challenging because it takes a good amount of money to change such things.Then i appealed to corporate bodies and some individuals to join forces with me in order to make our nation a better place. With God's help, I was able to scale through.
How are you handling the fame that comes with modeling and acting at the
same time?
I must say both careers brought me fame, but that doesn't change the real me. I try as much as possible to make proper use of it. I don't do things that will soil my integrity or mar my efforts as an actress.
How many movies do you have to your credit?
I have not less than 20 movies to my credit.
You have acted alongside Nollywood heavyweights, how does that make you feel? Were you intimidated?
I was privileged to work alongside notable stars in Nollywood and it has helped my career. As for intimidation, I have never felt intimidated acting on set with any of them because they all started somewhere small to get the height they have attained today.
What have you learnt from these actors and actresses that have gone ahead?
Though every one of us has our strength and weakness, I look up to some good actors who I considered my role model in the industry. I have learnt to be focused and give my best in aspect of line delivery.
How do you relate with your fellow stars?

•Obokia
Photo: Sun News Publishing
My relationship with my fellow colleagues is cordial.
Do you have regrets about your acting career ?
No regrets. Life is short and precious. I always strive to move forward and leave no room for regrets.
How do you get finance to produce your movies?
That is my secret, but God has been my pillar.
It is argued that actresses sleep with men to finance movie production, what is your take on that?
I have no comment on that because I have no idea about it. It is strictly a personal issue and I am only concerned about myself as a producer and no one else.
What did you study in school?
Business Administration.
Did you date guys on campus or you had aristos?
None of the above. I was my normal self and carried on with my studies only.
Are you saying you went through school without dating any guy? Are you a virgin?
(Laughs) Of course, I did, but that's because my man was not a student.
Do you still keep your old friends or dumped them when you became a star?
I still keep my old friends. The fact that I am a star did not change the ever friendly and simple Elo Obokia that I am.
What puts you off in people?
Dishonesty and cheating.
What qualities endear you to people?
A lot of qualities. I am for people who are honest, whose personality exude self-confidence and drive towards their goal. I love people with sense of humour, loyal, accommodating, and God-fearing.
Do you love keeping male or female friends?
I love keeping both as long as they are reliable and trust-worthy and have the qualities I need in a friend.
How supportive are your parents about your career?
I am blessed to be born into such a wonderful and God-fearing family. They have all been there for me and very supportive. I am grateful for all their prayers. I am indebted to my sweet mother, she is indeed an example of a good mother. May God bless and protect my family.
How would you rate the movie industry, has it fared well?
The Nigerian movie industry is one of the world's fastest growing with a lot of vibrant stars taking it to its peak. It feels so good to know that Nollywood is the third largest film industry in the world after America and India. In fact, I am impressed and proud to be not just a Nollywood actress, but also a Nigerian. My dream is to see Nollywood become the world's best in entertainment.
Growing up, were you daddy's or mummy's girl?
Growing up was very interesting. I was daddy's girl and mummy's girl at the same time. But I was more on daddy's side because he did more of the pampering.
What kind of upbringing did you have and where did you grow up?
I had a wonderful upbringing because my parents were good people and very supportive. I hail from Isoko South, Delta State. I was born in Warri and brought up in Warri and Abuja.
How do you handle your male admirers?
It is not an easy one though, but you don't expect anything less, I try to be more polite.
What are the challenges of the job?
There are not so many, except for the fact that you have to work your ass out trying to portray someone else's character in the name of acting. It is very challenging you know.
How did you feel the first time on camera?
It wasn't really easy. Initially, I was a bit tensed but after some minutes, I was able to adapt to the system.
How financially rewarding is the entertainment industry?
By God's grace, the industry is very rewarding. It has really paid off. You get your pay. The fame is inviting, besides, there's this exposure that comes with it. It also opens doors of opportunities. But all these benefits come down to one lane because it takes diligence and patience to attain such rewards.
When you are on set playing those romantic roles, what runs through your mind? Don't you feel something?
Not at all. Acting is simply carrying out someone else's duty temporarily, to put yourself in somebody's character doesn't make you that person, so it would be unprofessional for to start attaching personal feelings to my job.
What if a guy you played a romantic role with starts asking you to date him, what will you do?
Any man can ask a woman for relationship, what matters is her reply which is either yes or no. So if a guy should ask me out after playing a romantic role with him, I will simply and politely say no because it is unethical.
You recently got engaged, how does your husband-to-be cope with your acting
career?
It feels so nice as a woman to have an understanding man, he is very supportive and encouraging. He is down with my career.
Can you quit acting for your husband?
That is not easy to deal with. Although I love my job, I love my husband more and if he wants me to quit acting, who am I not to obey?
Was it love at first sight?
That's my little secret.
How did you meet and what was the attraction?
Actually, we met through a friend and what really attracted me to him was his personality and his good sense of humour.
You seem very quiet, how would you describe yourself?
I am just the girl next door. I am simple, classy, accommodating and fun to be with.
What advice do have for your fans?
To all my wonderful fans, I love you all, I know without you there's no me. Thanks for keeping me there in whatever you do. Consult not your fears but your hopes and dreams. Think not about your frustrations, but about your unfulfilled potentials. Donít worry about what you tried and failed in, concentrate on what is possible. May God bless and grant your heart desires.
What should your fans expect from you this year?
They should watch out for my new movies. I promise to make them all proud.