Okafor did not kill himself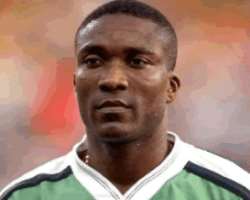 Okafor
The family of Uche Okafor has denied hints from the United States of America (USA) police that the Super Eagles' former defender, Uche Okafor, killed himself.
The Nigerian ex-international was reported to have died by hanging in his Dallas, USA, home. But in a swift reaction to the circumstances surrounding his death, the player's family spokesperson, Ugochukwu Nwaokoro, refuted the suicide story, stressing that there was more to his death than meet the eyes.
'We are disappointed with the stories being circulated on the internet,' Nwaokoro, in a telephone conversation, said from the United States (US). 'There is no iota of truth in any of the stories that Uche died by hanging. This is because the Uche we all knew could not kill himself. We shall get to the roots of the matter.
The autopsy report will reveal he truth of how Uche really died to the whole world. Meanwhile, police investigations are ongoing. For now, we are still in a deep shock over his strange death and we are not going to make any further comment until the autopsy report is made available to us very soon,' Nwaokoro said.
'On behalf of the entire Okafor's family of Umuabali, Ubomiri, Imo State, Nigeria, both resident at home and abroad, I would like to thank Uche's friends, associates and football/soccer lovers around the world, for your outpouring of love and support since the news of Uche's death broke. Your prayers, emails, text messages and calls are highly appreciated.
'As the family struggles to come to terms with Uche's passing away, we ask that you be patient in drawing conclusions about the circumstances surrounding his death. Police investigations are still ongoing, while the autopsy results are yet to be released.
'The Okafor family would like to advise everyone, no matter how well-intentioned, to refrain from making unguarded statements about Uche's death. 'In the meantime, please continue to remember us in your prayers, so that we can find the strength to deal with the devastating loss.