Liverpool Squares Up Gainst United At Old Trafford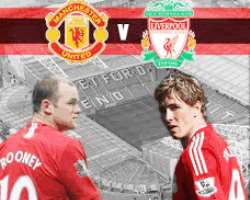 Rooney Vs Tores
There would be no dull moment tomorrow when bitter rivals, Manchester United and Liverpool go to war in an English FA Cup third round game at Old Trafford.
The lunchtime, north-western derby would be the lone clash involving two Premiership sides among the lot slated for today and tomorrow.
Also tomorrow, Chelsea entertains visiting Ipswich Town; Tottenham welcomes Charlton Athletic, while Manchester City would be guest to Leicester City.
Meanwhile, in some of the fixtures for today, Arsenal plays Championship side, Leeds United, Everton goes to Scunthorpe and Bolton clashes with York, while Fulham stays home to Peterborough.
The tomorrow's game involving Man United and Liverpool, according to records, is their 15th FA Cup clash since 1889. United had dominated Liverpool on eight occasions, while Liverpool had won four times. The remaining three ended in draws.
Two seasons ago, Liverpool was on top of its game, winning two of their Premiership meetings. But the Liverpool side lost grounds in the season that followed to allow United to take the initiative. Hence the two Premiership games played by the two sides were won by United.
When both sides met this season at Old Trafford, the encounter ended 3-2 in favour of United, a confirmation that the Red Devils are on top at the moment. United's supremacy is further confirmed by its pole position on the Premiership table. It leads the pack with 44 points from 20 outings, while Liverpool comes in the ninth position with 25 points from 19 games.
Despite its position at the summit of the Premiership table, United has not been convincing this season and the FA Cup is noted for its surprises and upsets. So no one can say for certain where the pendulum of this one will swing. Anything can happen.
The man likely to decide the outcome of tomorrow's encounter would be Bulgarian striker, Dititar Berbetov. The United's forward has netted 14 times this season in the Premiership. But he faces stiff challenges from the duo of Fernando Torres and the Reds' supremo, Stephen Gerrard.
Torres is not having the best of the season. However, he remains a factor that cannot be wished away.