ATIKU: I'M COMMITTED TO IGBO PRESIDENCY IN 2015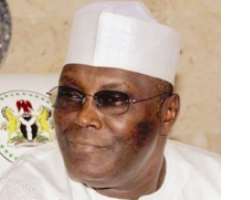 Alh. Atiku Abubakar
Former Vice President and presidential aspirant of the Peoples Democratic Party (PDP), Atiku Abubakar, has reiterated his commitment to Igbo presidency in 2015.
Speaking in Enugu yesterday at the beginning of his tour of the South-East zone to meet with PDP leaders,  stakeholders and business community leaders in the region, Atiku said he remains irrevocably committed to a president of Igbo extraction in 2015.
'I am committed to an Igbo presidency in 2015 to a point of passion. I remain resolutely committed that this zone be fully reintegrated in Nigeria,' Atiku told members of the Enugu State House of Assembly.
The PDP presidential aspirant said he has a historic duty to give meaning to the agreement reached between the Northern PLF and IPF that the presidency be ceded to Ndigbo in 2015.
'I am bound to abide by that agreement as it affects our children and grand children in the pursuit if national unity,' he assured.
Asked if he would not seek an extra 4-year term in negation of that pact, Atiku said: 'I believe in the constitution of our great party, the PDP; I believe in the decision of the party caucus; I believe in the court of law and that is why we have gone back to the court to demand that President Goodluck Jonathan should not run. I will abide by the agreement of the NPLF and IPF.'
Responding, Speaker of Enugu State House of Assembly (ESHA), Hon. Eugene Odo said that the people of the zone owe it as a duty to themselves to make marginalization, which has become their lot, a thing of the past.