AKPABIO PROPOSES N309.5B FOR 2011 FISCAL YEAR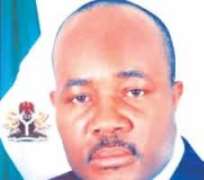 GOVERNOR Godswill Akpabio of Akwa Ibom State, on Friday, presented a budget of N309.5 billion for 2011 fiscal year to the state's House of Assembly.
The 2011 budget is N75.84 billion or 19.7 per cent less than the revised 2010 budget of N385.35 billion. Akpabio told the legislators in Uyo that it was christened: 'Budget of Consolidation and Transformation.' He said the major policy thrust was establishing industries and creating employment opportunities.
A breakdown of the budget showed that N52.2 billion was earmarked for recurrent services while N257.3 billion was earmarked for capital expenditure for the completion of ongoing projects.
The allocation to recurrent budget represents 16.9 per cent of the total budget while capital projects takes 83.1 per cent. Akpabio said the economic sector would gulp the highest allocation of N113.2 billion, representing 36.6 per cent. He added that the social sector had been allocated N72.3 billion, representing 23.3 per cent of the total budget outlay.
The governor said that the general administration would gulp N70.2 billion, representing 22.7 per cent.
Environmental and urban development sector got N53.8 billion, representing 17.4 per cent of the budget, Akpabio added.
Akpabio said that the budget would be financed from statutory allocation of N19 billion, derivation from oil revenue would account for N191 billion while internally generated revenue would account for N15.9 billion.
Other sources are value added tax accounting for N5.2 billion and retained revenue from parastatal agencies would account for N2.4 billion.
Other sources of financing the budget include the opening balance from 2010 budget accounting of N15 billion, internal and external loans would yield N51.2 billion while grants, ecological funds and miscellaneous receipts would account for N9.62 billion.
Receiving the budget, the Speaker, Mr. Anietie Etuk, promised that the House would give accelerated hearing to it. Etuk noted that the 2010 budget had been implemented up to 80 per cent.
'The legislature will not hesitate to co-operate with the executive to deliver the dividends of democracy to the state,' he said.