Iniesta Reaffirms Commitment To Barca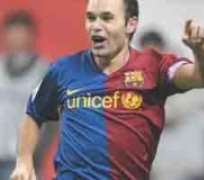 ANDRES Iniesta has rubbished reports suggesting that he could be lured away from Barcelona.
It had been claimed that the World Cup-winning midfielder was a January transfer target for Manchester City, which was prepared to offer Carlos Tevez in part-exchange.
It was believed that Barca was willing to consider offloading the talented playmaker in order to help reduce its mounting debts.
Such speculation has subsequently been downplayed by the Catalan giant, though, with the reining Spanish champion insisting that Iniesta is not for sale at any price.
The 26-year old midfielder is delighted to hear that he remained an important part of Barca's plans, as he hopes to see out his playing days at the Camp Nou.
'Barcelona have done everything for me and my family,' Iniesta, a product of the Barca academy system, told Esquire.
'My ambition is to always stay at this club. But my future will depend on my performances in the next few years.
This is not about money, this is about my desire to remain at Barcelona.'
Iniesta has also paid tribute to the ongoing work of coach Pep Guardiola, who has helped mould Barca into one of the world's most entertaining and successful sides.
He said. 'It is a privilege to be a footballer under the guidance of Guardiola.
'For me, he is the best coach in the world and a great teacher. He has a solution for any problem which may arise on the field.'