2 Face, Ali Baba, Jimmy Jatt, Weird MC, Shuga Band... all set for 'KOGA'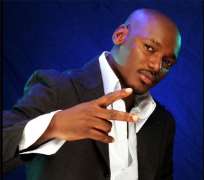 The ball of entertainment in Nigeria for 2011 will be set rolling on January 2nd as 2 Face, Jimmy Jatt, Alibaba, weird MC, Shuga Band, Blaise, will be launching Nigerians into another year of astounding entertainment at the launch of KOGA.
Set to take place on January 2nd 2011, at 2, Bolaji Street, off Kudirat Abiola Way, Alausa, Ikeja the launch of KOGA promises to be one of the best non-yuletide entertainment events of the decade. Starting by 4pm with a networking powered red carpet event, KOGA launch promises to be star studded.
The event that will be hosted by Ali Baba and Chioma of Silverbird Television, will be taking its audience through the transition of entertainment in Nigeria from the 60s till date.
A mini fashion show showcasing the creativity of Shakara is one of the side attractions slated to take place at the launch of KOGA
KOGA is a total entertainment company that comes in 2011 with the 'Power to Entertain' and they are set to unleash this power in every possible way. It runs businesses that include a record studio, record label, Audio production, TV content aggregator, production house (film, video and event), publishing company, live events studio, events centre that can seat 2,000, relaxation lounge and bar, TV and radio studios and more.
KOGA is also involved in social responsibility reflected in KOGA Foundation. This foundation visits orphanages but does not limit her charitable activities to visiting orphanages alone, the foundation looks out for people in the community that are in need and they render help to them.
Speaking on KOGA, Idris David Saibu the producer for KOGA said 'what we hope to achieve with KOGA is that people will no longer have to go to different places for different things, we looked out for entertainment needs and decide to give a solution to some of them. These entertainment solutions are what we packaged together into the entertainment place called KOGA.