Tevez To Lose Manchester City Captaincy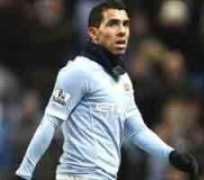 ROBERTO Mancini is set to strip Carlos Tevez of the Manchester City captaincy, according to BBC Sport.
The two met on Friday afternoon at the club's Carrington training ground to discuss the striker's transfer request. City plays Everton today, with Mancini considering handing the armband to Kolo Toure or Vincent Kompany.
The manager is yet to inform the club of his decision, but senior officials believe he is most likely to reinstate Toure as skipper. The defender was made captain under Mark Hughes but replaced by Tevez in the summer in a bid to make the Argentine stay at Eastlands.
Yesterday morning, Toure was still unaware of whether he would be captain against Everton, but Mancini is believed to regard him as the best option until Tevez's future is resolved. City rejected a written transfer request from Tevez last week and has made it clear it would not sell him in January.
Eastlands football administrator, Brian Marwood, declaring on Friday that he expected the striker to honour his contract, which runs till July 2014. Manager Mancini has also spoken publicly of his hopes of convincing Tevez that his future lies with City, which is third in the Premier League table on 32 points – two points behind leader, Manchester United, but having played a game more.
Tevez, 26, claimed that an irreparable breakdown in his relationship with "certain executives" was the basis for his desire to leave City. He was not in the party that travelled to Italy for last Thursday's 1-1 Europa League draw with Juventus, with Mancini instead giving a number of fringe players a run-out with qualification to the last 32 already assured.
Marwood has suggested that some of the figures surrounding Tevez, who is advised by Iranian Kia Joorabchian, might be agitating for a move. However, Joorabchian, who claims to have tried to talk Tevez into staying, has said the striker's desire to leave stemmed in part from City's failure to qualify for this season's Champions League.
Tevez joined City in 2009 following a two-year spell with rival Manchester United. He scored 29 goals in his debut season and has managed 10 in 18 appearances since Mancini handed him the captaincy prior to the start of the current campaign.
But less than 17 months into a five-year contract, the Boca Juniors, Corinthians and West Ham former forward was asking to leave.