BEWARE OF NIGERIAN GIRLS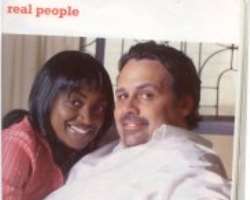 " Mixed Couples Saying No to Racism"
They've been married for seven years. Kate Henshaw Nuttal is a Nigerian Top actress married to Roderic Nuttal who hails from Nottinghamshire England.
Their experience:
Rod: When we started dating, I was told by some of my friends to beware of Nigerian girls. Even with that our friendship grew with no bounds. I recognised qualities in Kate, that I had myself, I knew we were right for each other, I did not really care what other people thought.
We were also pretty stubborn.
There had been times when I have had to remind my family that kate is now one of them." She never told me she was black, I just saw a beautifle woman both inside and outside. There was one incident that occur which I will never forget, " In the UK, one m an spat at our feet when he saw us togther. "And in Nigeria Kate has been called a prostitute. We are shock by such comments, but if people are so small minded as to believe that colours matter, then that is their problem not ours," says Rod.